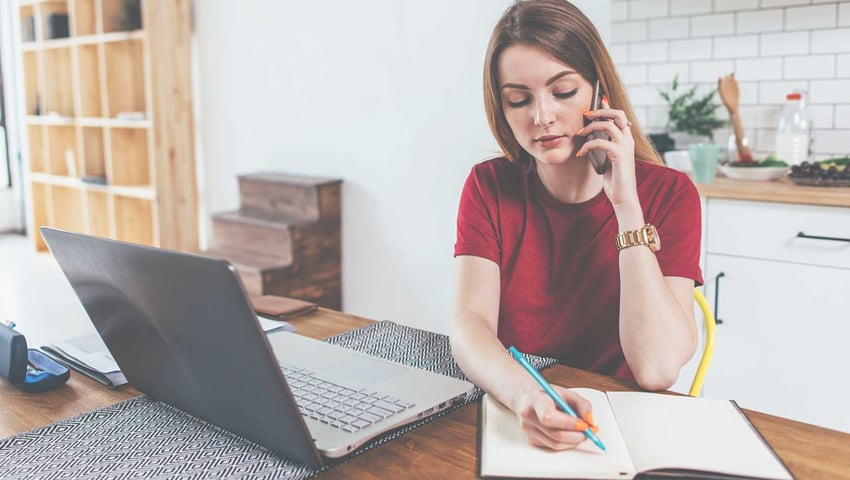 If you had polled 100 professionals in 2019 and asked them what their work dream was, they'd probably say working from home. Well, that dream has come true for many professionals—though not in the way any of them could have foreseen.
The pandemic fundamentally changed the way many companies operate and how their leaders think. Prior to this global event, only about 30% of employees worked remotely—Gartner estimates that in a post-pandemic world, that percentage will increase to 48%, or nearly half of the workforce.
What does this mean for someone looking to become a work-from-home insurance agent? Your prospects are much better than they would have been just a few years ago, when working remotely wasn't considered the norm.
So whether you're entering the insurance industry for the first time or trying to transition from in-office to remote work, this guide will give you the knowledge needed to become a productive work-from-home insurance agent.
Life As A Work-From-Home Insurance Agent: 8 Considerations
From a work standpoint, in-office agents aren't much different than their remote counterparts. Even working remotely, you can still sell all types of insurance: life, health, auto, property and casualty, and so on. You can also choose what type of agents you work as:
Captive agents (also known as exclusive agents) sell policies for a single insurance company.
Independent agents aren't tied to one insurance company, so they can sell policies for multiple insurers.
The distinction comes in only when you consider the work environment. But there's more to making the shift than just changing locations—before stepping into the role of a work-from-home insurance agent, it's important to consider the points below.
1. Unreliable internet is a deal-breaker.
There's no audio for this article, but hear me when I say this: You must have a strong, stable, solid, sturdy internet connection. (Yes, I used multiple synonyms and alliteration to underscore the importance of this point.)
Reliable internet is nonnegotiable if you want to work from home as an insurance agent, especially since you're going to be spending nearly all your time on the phone (which may be VoIP), on Zoom, on a lead-sourcing service, or on another application that uses—you guessed it—the internet.
Your work could potentially come to a halt without the internet; hence why I am hammering this point home. Most insurance employers require this and perform tests to verify your connection's reliability. So if acquiring dependable internet is not possible for you, the remaining points won't really matter.
2. Noise must be silenced.
Recall that I said you'll be on the phone—a lot. The last thing you (or your employer) wants is to have noise in the background on prospect or customer calls. Some noises like construction work may be unavoidable, but children crying or dogs barking are more within your control. Having high-quality, noise-canceling headphones and software help, but they may not always eliminate every sound.
The issue is that extra noise on calls not only makes it harder to hear and causes a distraction, but it can also be perceived as unprofessional. Some prospects may even question your legitimacy as an agent if they hear noises that clearly indicate you're at home.
3. Distractions need to be kept to a minimum.
Like the last point, children come into play here again. Imagine you have an interested prospect on the line and you suddenly hear, "Mommy, can I have some juice?" or "Daddy, will you play with me?" You can assume they heard it, too.
Even if they laugh it off, you then must either address your child's need or shoo them off—either way, it's a huge distraction that may impact the sale (and upset your boss).
The same can be said of a dog that won't stop barking or a cat that suddenly walks across the keyboard and accidentally ends your call. You must eliminate distractions in your space.
4. Technophobes may make work more challenging.
In cases where someone doesn't understand technology, you may have to deal with them not being able to hop on a Zoom call, check their email, accept texts, or access a web link. While this may be more common with Medicare, where older prospects are involved, there are some people who simply refuse to deal with technology (i.e., technophobes).
5. Customer data needs to be secured.
When you're in the office, you have the benefit of working on a computer that's protected by firewalls and monitored by IT—not to mention the physical security of the building itself. You'll need to take measures to ensure a similar level of security at home. For example, some companies may provide you with a work laptop that's equipped with a remote wipe function in case it gets stolen.
6. You need the right tech setup.
Speaking of a work laptop, that's not all you'll need in your home office (or bedroom if that's all the space you have). Company and third-party software, a scanner, a printer, and possibly even multiple computer screens may all be necessary for you to be productive and multitask.
7. You may need to meet certain productivity requirements.
As a work-from-home insurance agent, the company may have certain policies in place regarding productivity. For example, they may require you to spend a certain amount of your workday—such as 60–75%—on the phone talking to prospects and current customers, or waiting in a queue to take a call.
8. You may feel isolated.
Are you an introvert or extrovert? Can you forego in-person socialization with your manager, coworkers, and clients? Many people who haven't worked from home before don't consider they might miss everyday office interactions, especially if they are self-employed.
Some companies take steps to keep workers connected. For example, they may have daily meetings, keep in contact throughout the day on Slack, and ask managers to be available in Zoom rooms in case an agent has a question or just wants to check in.
How To Become A Work-From-Home Insurance Agent: 5 Steps
1. Earn your insurance license(s).
Regardless of where you choose to work, you must be licensed to sell a specific type of insurance in a given state. So you'd need a license to sell health insurance in Colorado and a license to sell that same insurance in New Hampshire.
The good news is there's only one exam for each type of insurance. The bad news is that you have to pay for licensing in each state for which you want to sell insurance, and each state has its own requirements for licensing. You also have to renew your licenses each year.
While the downsides may seem complex and costly, there are a few upsides:
The more states in which you are licensed, the greater footprint you have for being able to sell insurance. Whether you choose to get licensed in certain states will depend on where your leads are coming from.
Certain states are more lenient than others with their requirements.
Some employers will pay for your exam and/or licensing fees.
If you need help getting licensed, start with our guides on the life and auto insurance exams.
2. Contract with an insurer(s).
After attaining your license(s), you need to contract with one or more insurance carriers (e.g., State Farm, UnitedHealthcare, etc.) to be able to sell their respective policies. While working with one carrier is a viable approach, contracting with multiple carriers gives you additional options to offer prospects. Not only does this provide you with more opportunities to sell policies, but it also signals to prospects that you have less carrier bias, which may inspire greater trust.
3. Set up your home office.
Here is where you take the time to set up a dedicated space in your home to work, whether it's an entire room or at a desk in your bedroom. You're going to be here most of the day, so just make sure it's somewhere you'll feel comfortable. Be sure to get all the equipment and software required to perform your work (see above for examples).
4. Source leads.
Even with a handful of licenses, multiple carrier contracts, and the perfect home office setup, you won't be much of a work-from-home insurance agent without leads. As a captive agent or employee, your employer will typically provide leads for you, but the same typically can't be said for independent agents and the self-employed—unless they work for a broker that provides them. You'll need to identify leads of your own whether through word of mouth, networking, or online services. Here's an in-depth guide on lead generation that can help.
Pro tip: Save yourself a lot of headaches by using lead generation marketplaces like EverQuote that are designed specifically for agents. These marketplaces save a lot of time, and help you focus more on selling rather than searching.
5. Contact prospects and close the sale.
Now to the fun part. After putting in all your hard work, use what you've learned to woo prospects into purchasing a policy on the phone or via email. Remember that a great customer experience will aid with client retention and growing your book of business.
That's it! You're ready to start your journey as a work-from-home insurance agent. To ensure your success, here are a few additional resources to read up on:
Good luck with your insurance journey!