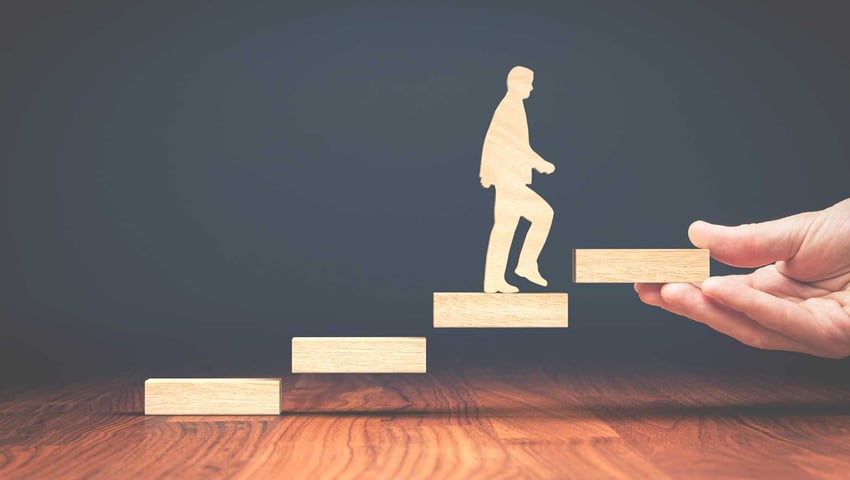 Insurance can be a tough game to play. Even after talking to multiple clients in a day, they still might all wind up saying no to a winning sales pitch. Even the best producers can feel demoralized in these unfortunate situations. But veteran agents know it's important to keep pushing forward because the next call might be the yes they need.
How do these top producers find the will to pick up the phone after one too many rejections? Sometimes it just takes reading or hearing the right words. We reached out to several producers in the industry and curated their favorite motivational quotes for insurance agents. Keep reading to see the insurance agent quotes they look to for inspiration – even when times seem dark.
11 Motivational Quotes For Insurance Agents
1. Closing The Sale
You don't really aim to only close a sale if you want to be successful in this industry. You open a new chapter with your client—the beginning of a long-term relationship.

- Unknown
"This is meaningful because it really tells you how to do your job and points out what most people are wary about when it comes to anyone selling something," says Anthony Martin, CEO of Choice Mutual. "Don't con your client into buying something they don't need for your personal benefit."
Martin explains that if you find out what the client needs and cater to that need—instead of trying to squeeze more money out of them—you've already set yourself apart from most people in sales. "If you go the other way, you'll be missing out on return clients and glowing recommendations."
2. Quantity Over Quality—Sometimes
Some will, some won't. But enough will.

- A.L. Williams
"This quote has helped me a lot when trying to build a business and sell products because it's a reminder that one person will not make or break my business," says Angela Bradford, senior marketing director at World Financial Group. "One person is not the key–it's consistent work and talking to lots of people!"
3. Milton's Law
If opportunity doesn't knock, build a door.

- Milton Berle
"This quote is meaningful as it makes me look at every situation as an opportunity," says Greg Rozdeba, president of Dundas Life. "The only difference between me and my competition is that I don't rely on chance. These words have ingrained a problem-solving mindset into my professional and personal life."
4. An Important Trait For Success
The difference between a successful person and others is not a lack of strength, not a lack of knowledge, but rather a lack of will.

- Vince Lombardi
"It's easy to give up when rejected; however, I started to see rejections as being one step closer to the next sale," says Shawn Plummer, former insurance sales director and current CEO of The Annuity Expert.
For example, Plummer says if his closing rate was 20%, then he only had to generate an average of five more leads to get the next sale. Overall, to increase his sales, he had to either increase his closing rate or generate more leads. "Once I had clarity on this simple concept, I became even more determined to succeed. I continue to be inspired by this quote to stay hungry and focused."
5. Customers & Competition
If you don't take care of your customers, your competitor will.

- Unknown
"This is one of my favorite insurance agent quotes because it shows the urgency of making sure to address a potential client's needs on the first call—not needing to follow up later," says Kelly Maxwell, CEO of Seniors Mutual.
Maxwell explains that, in her experience, she's found that follow-up calls are oftentimes a moot task. Prospective clients answer the phone and say they received insurance from another provider. "This happens despite me knowing we provide better service at a lower price. Hence the importance of nailing the first call."
6. It's All In The Questions
The more you listen and ask discovery questions to learn about the client's needs, the higher your likelihood to be relevant to the client as you articulate how your coaching helps the client.

- Coachilly
"Learning from the masters is essential," says Brad Cummins, CEO of Insurance Geek. "While there are several insurance motivational quotes that have had an influence on me and my ideology as someone working in the industry, this one has stuck with me throughout my two decades of experience."
7. Staying Positive
Keep yourself positive, cheerful, and goal-oriented. Sales success is 80% attitude and only 20% aptitude.

- Brian Tracy
"This quote reminds me that I need to keep these internal aspects in mind every day when selling," says Randy VanderVaate, president of Funeral Funds of America. "Closing a sale is more dependent on my attitude, not the attitude of the prospect. Staying positive and cheerful impacts the sales call. My clients and prospects feel the vibe I'm emitting and are more welcome and receptive to my solutions."
8. Hoping Vs. Action
Hoping drains your energy. Action creates energy.

- Robert Kiyosaki
"It's easy to get caught up in the big picture of your insurance business and be overwhelmed or drained," says Jake Irving, owner of Willamette Life. "But once your day is done, can you say that you took steps forward within your business? Did you show up and make the necessary appointments? This simple quote keeps me moving forward and grounded, which allows me to help clients receive the coverage they need."
9. Einstein's Theory Of Compound Interest
Compound interest is the eighth wonder of the world. He who understands it, earns it. He who doesn't, pays it.

- Albert Einstein
"Out of many motivational quotes for insurance agents, this one might seem less inspirational and more on the nose—but that's why I like it," says Sally Gimon, an insurance agent and financial advisor. I focus on helping clients pay third-party debt off quickly and save for retirement with life insurance, so this quote aligns closely with my work."
10. The Magic Of Success
Success is neither magical nor mysterious. Success is the natural consequence of consistently applying the basic fundamentals.

- Jim Rohn
"Growing up, my dad—an insurance agency owner—dragged me to two different Jim Rohn seminars in California," says Brent Thurman, owner of Bear River Mutual Insurance. "This quote from Rohn still stands out to me. So many clients (and salespeople) are looking for a magic pill or the get-rich-quick solution to obtain amazing results. But if they would instead use small, proven steps consistently—and without stopping—they could have the types of outcomes they want over time."
11. Feldman's Three Pieces Of Advice
Work hard. Think big. Listen well.

- Ben Feldman
"Ben Feldman was a legendary life insurance salesperson, selling a face value amount of almost $1.5 billion during his career," says Simon Huften, president of Life Insurance Canada. "His achievements and motivational speaking inspired thousands of life insurance agents to think bigger for not only themselves but their clients and prospects."
Huften says the Feldman quote has helped him stay focused on three things:
Old school, hard work. "There is nothing, in my opinion, which has as much impact as consistently doing hard work," says Huften.
Goals. "This is the 'think big' part. I've always motivated myself to achieve targets and help as many people as possible in both life and business," Huften explains.
Listening. "This one is simple. We need to listen well to our clients and ask great questions to understand their goals and dreams. Sometimes, we as insurance advisors can speak in insurance jargon that our clients may find difficult to understand," says Huften.
Need more motivation? Check out EverQuote.
With EverQuote, you have complete control over how many leads you receive each day. You can even customize your parameters and pause your account with no consequences. Click here to get a tour of the software with one of our experts.