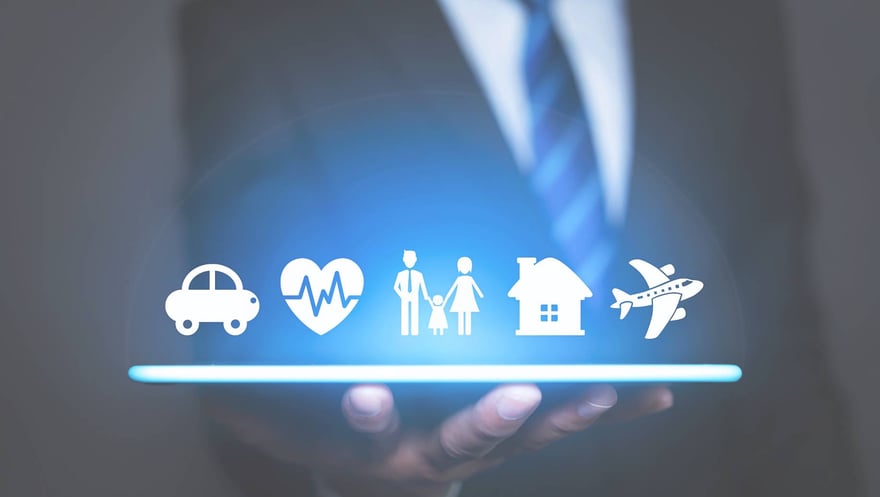 Let's face it: Being an insurance agent isn't necessarily on anyone's list of dream jobs.
This is perhaps why the industry feels like it has to trot out funny ducks, sunshiny spokeswomen, or sharp-tongued lizards to win customers. But that's a misleading view of what being an insurance agent is all about.
If you're the type who cares about helping people achieve goals and protect their family's future—and you want the same for yourself and your loved ones—then being an insurance agent may be right for you.
However, there are some essential things about the job to consider both personally and professionally. To give you an insider's take on the truth about being an insurance agent, we sat down with captive agent Chandler Hahn. With nearly two decades of experience in the industry, Hahn has worn every hat from underwriter to claims representative to what he is today: a sales leader with a busy team of personal and commercial agents. Here's his take on everything from job requirements and market conditions to perspectives and personality traits.
Truth #1: Being an insurance agent is hard work.
Unless you have a family member or close friend in the industry, chances are you don't know much about selling insurance. The good news is, this isn't an obstacle.
However, as Hahn points out, there is a critical factor you must have to succeed as an insurance salesman or saleswoman.
"You don't have to be extremely experienced in insurance, but you do need a solid work ethic along with the ability to learn."
For a heavily regulated industry like insurance, this advice is vital. A lot goes into working as an insurance agent, starting with paying for and completing a state-approved insurance course and passing a licensing exam. In some states, you'll need an employer to sponsor you. And to maintain your license, you'll have to complete continuing education and periodically renew it.
Plus, selling insurance can be challenging. It's competitive, requires long hours, and takes hard work to succeed.
The payoff, however, can be significant. After all, everyone from renters to homeowners to business owners to drivers needs insurance. More than half the U.S. population has health insurance and life insurance. And disability, liability, dental, and pet insurance are all popular forms of coverage.
In other words, there's always a market for insurance.
In fact, the U.S. Bureau of Labor Statistics (BLS) reports that the job outlook for insurance agents is growing 5% faster than other industries through 2029. While the BLS reports a median wage of $52,180, Hahn says top earners can make six figures or more as their experience and client base grow.
Truth #2: You're not just selling products. You're selling benefits.
If you're all about selling products to make a fat commission, chances are you won't do very well. The value an insurance product has to offer must shine through. Your job is to embrace the benefit and clearly explain it to the customer, says Hahn. "I always feel that to be a good salesperson, you have to believe in the products. And so I don't sell anything that I don't believe in."
What's appealing to clients isn't a given product—they're interested in the things that matter most to them.
"The big thing when you talk to a customer is finding out what I call FROG: Family, Recreation, Occupation, Goals," Hahn advises. "Finding out those four things about somebody helps you customize products and benefits."
Putting people's hopes and dreams into context—specifically noting what a disaster can potentially take away, like a home, their health, or retirement funds—makes explaining the need for insurance simple.
Truth #3: You're competing against the insurance industry itself.
Thanks to the $21.72 billion InsurTech market, online insurance is one of the biggest threats to the average insurance salesman or saleswoman's success.
Chances are, if you read one of those "why I quit being an insurance agent" blogs, you'll hear that customers have unrealistic expectations (i.e., "15 minutes could save you 15% or more..."). This creates what Hahn calls a "twofold problem." People don't get the proper coverage because they're not educated enough to make an informed decision, so they jump at the cheapest option. And agents feel they're wasting their time trying to beat low online pricing.
If you buy into that perspective, then you're already giving up. And soon, you'll be the one to write that article on "Why I quit being an insurance agent."
Instead, stay focused on the value of insurance and why it's essential. Start with what Hahn tells his prospective customers — and himself: "I tell clients that, if you own a home, it's the largest investment you'll probably ever make in your life. If you spend 15 minutes shopping for the cheapest rate instead of ensuring you've got a good policy, you'll regret it. When your house is burning to the ground, I promise you won't be thinking, 'Thank goodness I saved $20 on insurance.' I guarantee you it's, "I hope I've got the right coverage!'"
Truth #4: Being an insurance agent requires having thick skin.
For all the reasons we've discussed, clearly you have to take things in stride when you're working as an insurance agent. Pitching people and cold-calling are part of the business. And getting people to listen to what you have to say isn't easy. Like any other sales job, rejection is part of the package. Killing yourself to devise just the right coverage for a prospective client doesn't come with any assurances they'll sign on the dotted line.
So, develop self-care habits — exercise, talk to friends and family, meditate — and learn how to let things go.
The truth about being an insurance agent is there will always be another opportunity to help someone who will appreciate your guidance. They'll recognize the value in having the right coverage, and you'll earn a loyal customer.
Truth #5: There are pros and cons to both captive agent and independent agent roles.
A "captive" agent commits to exclusively selling an insurance company's policies. An independent agent sells policies from multiple vendors. Both have their benefits and drawbacks.
Captive agents enjoy the benefit of the company's support, including client referrals. They also get access to an office, administrative staff, and equipment. Captive agents are paid a salary and commissions, and the company helps them stay licensed and compliant.
What captive insurance agents don't have is the flexibility to sell whatever products they want and comparison-shop on behalf of customers. Plus, they still have to hustle and deal with managing people and paperwork, just like any other small business owner.
Independent agents enjoy more flexibility for their clients and themselves. This can empower them to be more competitive on everything from cost to coverage. They also often make higher commissions than a captive agent.
On the downside, companies with captive agents may not work with an independent, and all the hassles and expenses of running their own business are on them.
According to Hahn, neither way is better or worse—they're just different. He advises you to work as a captive insurance agent to learn the ropes if you're new to the industry. The independent route may be for you once you are comfortable selling insurance and want more control over your destiny.
Truth #6: Being an insurance agent isn't just about selling insurance.
You'll wear many hats beyond marketing and selling insurance policies. If you do your job right, you can play a vital role in your clients' lives.

"I'd honestly say you're like a therapist. You have to ask questions and find those heartstrings. If you don't know what's important to somebody, you can't properly protect them."
Working as an insurance agent can become an amazing career that empowers you to make people's lives better as you enrich your own. But it takes is a solid work ethic, patience, and the commitment to treating every client with dignity and respect.
Now that's a solid insurance policy for professional success.