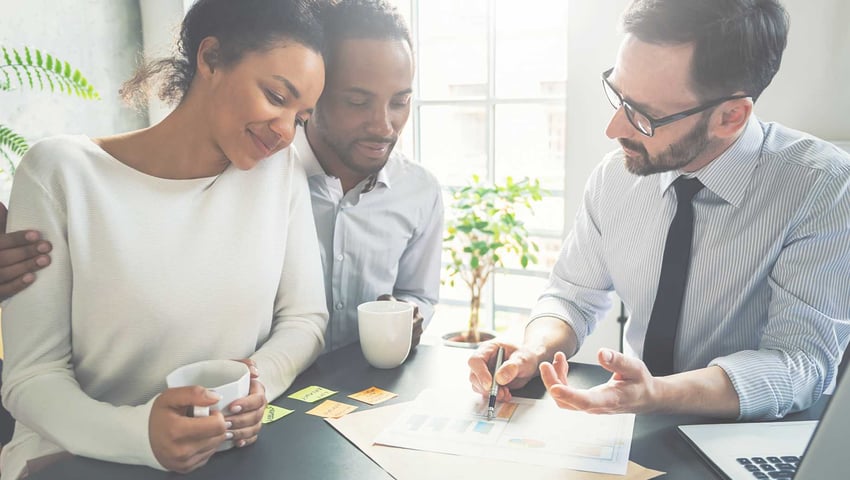 One of the most common statements we hear from people interested in taking the leap into selling insurance is that they simply don't know where to start. Chances are, you landed here because you're looking for a jump-start on how to sell insurance, and you may be asking yourself the following questions:
What are the first things I need to do?
What type of agent do I want to be, and what are the requirements?
How do I choose which types of insurance to sell?
Who do I sell to?
How can I become successful?
In this article, we'll answer all these questions and more for those new to the insurance business, and for anyone who is trying to expand their portfolio.
How To Sell Insurance: A Beginner's Guide
Know where to start.
While selling insurance isn't as easy as, say, selling lemonade, it's really not as difficult as you might believe. So many people don't take the opportunity to begin their own businesses simply because they don't have a clue where they should start.
The first thing you need to do if you want to become an entrepreneur of any kind, especially an insurance agent, is to understand your motivation for taking on the challenge. Investigate why you are interested in the world of insurance, what your goals are as an agent, and if this is really a good path for you. Talk to agents or people in the industry, and see if you can shadow them.
Choose which types of insurance you're interested in selling and understand the requirements of being an agent.
Before you can sell insurance, you need to be licensed and pass the insurance exam in your state or the states in which you wish to practice. Here is a brief overview of how to become licensed:
Commit to the process of getting licensed, which means taking the required classes, studying, and completing practice tests. I recommend you use online license study services such as ExamFX to study and prepare for your license exam.
Pay for and pass your insurance licensing test. Costs vary by state, but it's generally around $50.
Whether you decide to be a full-time or part-time agent, the process for licensing and examinations is exactly the same. You can read about that process in detail in our article, How To Pass The Life Insurance Exam: A Go-To Study Guide.
Then, you will need to get appointed. This step is specifically for agents that go the independent route (as opposed to captive agents, who generally sell products from one specific company). "Getting appointed" means you've been authorized by an insurance company to act on its behalf as an agent. Once appointed, you're able to sell multiple insurance products from that company.
Decide who you want to sell for and what you want to sell.
Once you are licensed, you'll need to decide whether to work with a captive or independent agency, and how much you want to work. Both full- and part-time opportunities are available.
Check to see if the agency you are looking to work with offers licensing prep or provides access to an online license study service. For agents who want to work part-time, working for an independent agency can be a great introduction to the insurance industry because there are often more opportunities available. On the other hand, captive agencies typically offer better training.
If you're starting an insurance agency with no experience, you'll have to procure your own funding to get started. That may sound daunting—but it likely won't require as much money as you think it will. Initially, the only necessities you'll have to pay for include fees for licensing and testing and the cost of training and technology. Depending on whether you choose to become an independent or work with a captive carrier, you may be able to negotiate your starting pay with more leverage. If you have plans to grow your agency—or if you have a partner—you may also be able to secure a more advantageous pay structure.
Deciding whether to be a captive agent or an independent agent will play a large role in this decision. Captive agents typically don't have as much control over what products they'll be selling, while independent agents have more flexibility to offer certain product types to certain clientele. Some questions to ask yourself:
Do I want to sell both commercial and personal insurance lines?
Do I like consistency, or would I prefer to talk to different personalities in different industries throughout the day?
Do I like 1–1 relationship building and adding value to what I bring to an individual or family?
How much money do I want to make?
How much time do I have to dedicate to different types of licensing? Agents must be licensed for whatever they sell; there are different guidelines for all types of insurance and they're equally challenging.
If you're currently in the corporate world and pivoting to insurance agency life, you may consider beginning on the commercial side, which is more likely what you're used to and is often more fast-paced. If you've never been in the field or are not familiar with insurance at all, I suggest starting with personal insurance. And, if you want to sell both, you can. While most companies do one or the other, some choose to do both.
Step 4: Decide how you want to sell.
When you begin building your agency, it's important to define how your personal/agency brand will impact how you sell insurance. You can sell based on price, on a brand name, trustworthiness, value, etc.
At EverQuote, we aim to sell based on value—we're not price-driven. This is a specific choice we've made to attract the type of audience we want to work with. Along those lines, you should also define your audience and then sell to that audience in accordance with their wants and needs (for example: low-cost insurance, high-value insurance, etc.).
The methods you use to sell will vary depending on your customer type, and you will have to learn those methods yourself. Your carrier should be able to help you, and EverQuote's resource library can also assist you no matter how you want to sell insurance.
Finding Leads: A Solution For Every Agent

No matter what type of insurance you sell or what carrier you partner with, EverQuote makes finding the right leads easy. EverQuote is an online insurance marketplace that connects agents like you to consumers shopping for auto, home, and life insurance.

Our online leads are high-quality, vetted, and ready to hear from insurance agents. Whether you're a new agent or a veteran, EverQuote works as your partner to help you find success and grow your book of business. You'll get expert advice from our team, who can help you learn how to optimize your lead purchases and even provide support when you need to make adjustments. If you'd like to find out more about our leads and our services, schedule a tour of EverQuote's tools with one of our experts.
Step 5: Kickstart your marketing & sales.
Marketing and sales are fundamental to the insurance business. How you market and sell your image, your brand, and your products will determine your level of success. While this topic could fill a book, I've narrowed down the list to some must-dos if you're just getting started.
Create a strong, lead-generating website. Your carrier will likely provide you with a website, so start there. As you develop your agency, you can also redevelop your existing website
Utilize social media. The best way to build and engage your community is to actively use social channels. Check out our guide, The Ultimate Social Media Playbook for Insurance Agents, to learn how to master social media marketing.
Manage your online reputation. If you don't know what people think of your business, you're missing out on a huge opportunity to boost your reputation and discover what your clients (and prospects) think. In this guide, you'll learn how to do these things and more using Google My Business—a free tool for agents (or anyone else) who want to grow their businesses.
Take classes and webinars. There is no shortage of good places to get knowledge—often at no cost! I suggest starting right here with our own resource library. We have ebooks, webinars, and even entire conferences live and free for you to access—right now.
Use proven sales best practices from other agents. There is no reason to reinvent the sales wheel. Being a new agent—or one dipping their toes into a new vertical—doesn't mean you have to start selling without proven talking points. Learn the exact scripts successful insurance agents use to grow their businesses—and how you can adapt their proven talk tracks to your business.
Utilize your business partners. Utilizing online lead vendors like EverQuote can be a valuable marketing tactic. By working with EverQuote, you can directly connect with high-quality internet leads without having to generate them all yourself. When you partner with us, we'll not only provide you with high-quality leads, but also show you our best practices for sales, marketing, and how to make the most of your lead opportunities.
Keep learning how to be successful. The best agents in the business never stop learning. Even as a beginner agent, set apart time every week or month to focus on learning. Even five minutes a day will add up over the weeks and months.
Step 6: Network to learn how successful agents sell.
Use your carrier's message boards and vendors to network with successful agents (and find out what your competition is doing). Find the people who are having success and ask what sales and marketing tips are working for them—webinars, seminars, networking events within your agency or industry-wide are great places to start.
Step 7: Learn how to close the deal.
Arguably the most important part of selling insurance is actually closing the sale. Everything you need to know to do this successfully is outlined in our article, Closing The Sale: The Ultimate Guide For Insurance Agents (Featuring Steve Wilmer)—it's a must read that details everything you need to know. In a nutshell, this includes:
Being unapologetically you
Asking potential customers better questions
Addressing price first and foremost
Understanding you'll get significantly more "no" than "yes" responses
5 Pieces Of Sales Advice For New Agents

Never "call someone's baby ugly" (so to speak). As a sales professional, never make prospects or clients feel bad about a decision they've made in the past. Instead, provide a new solution that helps them and adds more value. Once you've provided value and they trust you, you're in a better position to explain why your solutions are more beneficial to them.
Never sell from your own pocket. Just because you may not be able to afford a product or service doesn't mean your ideal customer can't. Don't undercut your value—let your price be what it is.
Never fish from the same pond as your competition. Expand your selling region geographically, or think outside the box. One of the best ways to find "more fish" is to partner with EverQuote!When it comes to finding potential customers for your agency in the digital age, buying high-quality leads can be one of the most effective strategies you have. Real-time leads, like those you purchase from EverQuote, are connections to people actively looking for insurance products. Real-time leads are excellent prospects because they generally have higher relative conversion rates, as well as a typical quicker time to bind. Learn more about EverQuote's leads and how they can help your business grow.
Never operate based on your feelings. Instead, operate based on your purpose. What anyone else says or does doesn't matter when you know your purpose as an agent is to provide high-quality products that help people protect themselves and their families. By keeping this purpose top of mind, you'll be much better equipped to handle the feelings that come with the objection and rejection you'll undoubtedly have to face.
Never ask for permission. Never ask questions like "Are you interested in...?" "Do you have time to…?" "Would you like to…?" Teachers, parents, and society in general have always taught us to ask for permission. In many cases, permission is necessary… except in the world of sales! As a sales professional, you can't ask for permission. What should you do instead? Ask for buy-in. For example, if you're selling insurance, don't ask if a prospect is interested, but instead ask if what you're saying "makes sense." This allows the prospect to clarify or ask questions without giving you a hard "no."
Step 8: Take action.
Now, it's time for you to take these steps and apply each of them to your agency. Think of how to sell insurance in the same way as how to build a house: It's difficult to rebuild a house, and if it's not built on a solid foundation, it will eventually need to be rebuilt anyway. When the winds come, the house will continue to fall, and you'll be constantly doing patch jobs.
By taking the time to carefully design and build your house (your insurance agency) with each of the items listed above, you will have to do less pivoting, and you will likely be more dedicated to the products you decide to sell.
As you build your agency, we'd love to come alongside you. At EverQuote, we're dedicated to providing our insurance agents with quality, qualified consumers. We are an online insurance marketplace that connects agents like you to consumers shopping for auto, home, and life insurance. The service includes advanced targeting and dedicated customer support, among other user benefits.
Whether you're a new agent or a veteran, EverQuote gives you the flexibility and partnership you need to find success and grow your book of business. You'll get expert help from our team, who can help you learn how to optimize your lead purchases and even provide support when you need to make adjustments. Click here to schedule a tour of EverQuote's tools with one of our experts.