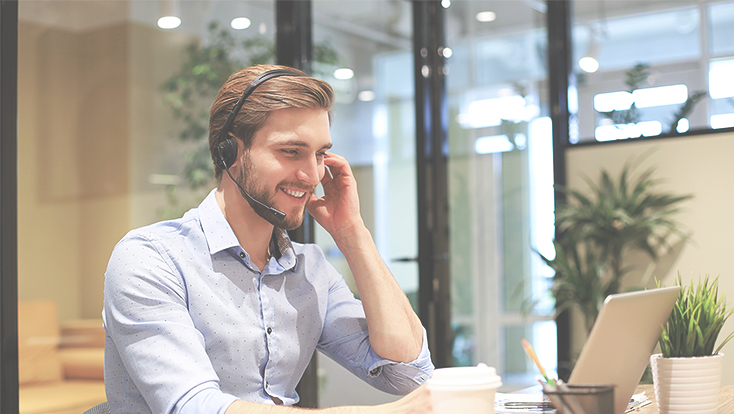 Say goodbye to the days of in-person visits to your prospects. Thanks largely to COVID-19, even if you wanted to, you can't go to someone's house and knock on their door—most people in all industries are interacting online, over the phone, or via text and email.
This huge societal shift underscores the importance of knowing how to converse—and sell—over the phone. It's absolutely imperative to your success, so make sure you know these basic tips.
4 Basic Tips For Selling Insurance Over The Phone
1. Be persistent.
Not everyone wants to talk the first, second, or even third time you call—even if they are a lead who has indicated intent! Maybe you've called them while they're busy at work, dealing with things at home, or they're just plain not in the mood to discuss insurance. That's OK; just don't give up!
Psychologically, you should expect to take a minimum of three "no's" from a consumer. The first no is because they're unsure of the situation; the second is because they have questions or concerns; and the third may be a "real" no. But if you don't get past the first two barriers, you may not get to a "yes," either!
Using a proven contact strategy can help you be persistent by giving you a step-by-step plan to follow; working leads this way can have a big impact on the success of your agency (sometimes boosting lead revenue by as much as 128%!).
2. Respect the consumer no matter what.
"Treat others the way you want to be treated." Even though you're selling over the phone and the lead can't see you, your tone and demeanor will be evident. Don't interrupt, don't yell, and don't talk down to the person on the other end—or you will undoubtedly lose a sale. This seems obvious, right? Surprisingly, even insurance agents can get frustrated (sometimes rightfully so) and do or say things they shouldn't.
If this happens to you, take a breath and refrain from saying anything. You have no idea what the consumer is dealing with, and escalating the situation will not help you win a new customer. Instead, ask if there's a better time for you to call, sympathize with them, or simply thank them and hang up (and don't call back).
3. Know how to handle objections.
You've no doubt heard a wide variety of sales objections. Many are related to cost—"This quote is too expensive"—but there are plenty of others, including:
"I didn't request a quote."
"I'm getting too many phone calls."
"I don't have time to talk right now."
"I don't like your carrier."
So, what should you do if you're on the phone and you hear one of these objections? In this article, we address first steps you should take; however, to get the full scoop on how to move from an objection to consideration to sale, download our free guide:
4. Provide value.
One of the most obvious—and often overlooked—things an agent should do when selling insurance over the phone is to communicate not just practical information like products and rates, but how their agency is providing value to customers' lives.
An agent once told me about a prospect looking for home insurance. The agent's quote came out $200 more in premium per year than a competitor's quote, but that additional premium also provided the homeowner an additional $30,000 in replacement value. If the agent hadn't shared this information, the homeowner wouldn't have seen the value nor would he have accepted the increase. But because the agent took time to go over every part of the quote—and shared the information about extra coverage—it resonated with the homeowner and made the extra $17 per month worth it.
Remember: The general public doesn't have the insight you do about insurance costs. Taking the time to explain the details builds trust and creates value.
More Resources For Selling Over The Phone
Because selling insurance over the phone will continue to be an increasingly important part of your business, knowing these best practices is crucial. However, this is in no way a comprehensive list! We've created the following resources to help you and your producers with your sales processes. Check them out:
We also have an entire section of the EverQuote blog dedicated to insurance sales—new articles are added weekly, so be sure to bookmark the page!