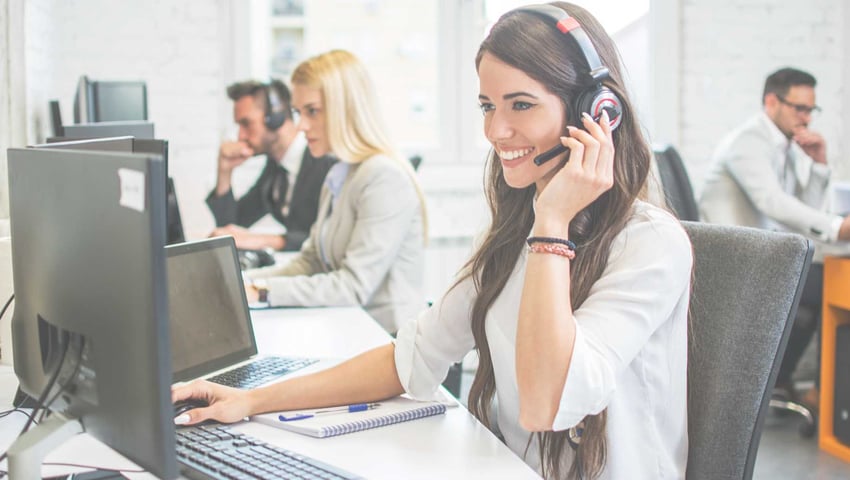 Warm leads and warm transfer calls are some of the best kinds of insurance leads an agency can invest in. It all has to do with math—time cost and opportunity cost.
If a warm transfer call (also known as a live transfer) costs $50, you might get sticker shock when you compare it to a $10 data lead. But hold on just a second! Think through the time and opportunity you're investing with both leads:
| | |
| --- | --- |
| Warm Transfer Calls | Regular Data Leads |
| $50/lead | $10/lead |
| Guaranteed Conversations | No Guaranteed Conversations |
| On the phone immediately | No guarantee someone will answer immediately; may take multiple attempts over several days/weeks |
If you buy 100 data leads in a day and you talk with five of those leads, you've essentially made back $50 of the $1,000 you spent. In comparison, buying warm transfer calls can cost up to five times more, but you're saving a ton of time by avoiding outbound calls, voicemails, etc. If you calculate the lost time, it's equal to how much you're paying for a live transfer lead (or even more in some instances)! You end up paying the same amount—plus you're adding payroll and lost man hours for people to be on the phone with data leads. And this is where costs continue to increase.
Think about your employees' sanity:
Team Member A dials 100 times a day, talks with 10 people, but has a real sales conversation with only five people of the hundred dialed.
Team Member B receives five warm transfers, and is able to have a real sales conversation with all five people on the spot.
Who do you think is happier in their job? Of course, the answer is Team Member B, who gets to take advantage of warm transfers.
Benefits Of Warm Leads
By choosing to invest in warm lead generation, you are allowing your team members to spend more time in conversation with people who have actually expressed interest in your product, instead of playing phone tag, leaving voicemails, etc. Just think about it—you are paying your licensed, professional staff members to spend six hours a day leaving voicemails when you use standard cold data leads. That is not a good use of time for someone who's on the payroll!
How To Get Warm Leads & Transfers
Now that we've covered why warm leads and warm transfer calls are beneficial, how do you get them? Here are four ways we recommend.
1. Partner with EverQuote.
EverQuote Pro's Lead Connection Service (LCS) is one of the most efficient, convenient, and cost effective ways to get warm leads and calls. They are literally handed to you with no work required by your producers—you don't have to DIY finding the right people, you don't have to handle the initial dial out, etc. EverQuote has done the work for you. Plus, with LCS, you only pay for data leads along with a small monthly fee to have EverQuote's team of professional telemarketers work the leads for you. So for the cost of data leads plus a modest monthly fee, you're essentially getting access to warm transfers for a fraction of the cost.

Here's how you can expect to benefit when you invest in EverQuote's leads with Lead Connection Service (LCS):
Every EverQuote lead is called immediately and consistently. EverQuote leads are typically dialed within 30 seconds from when they are submitted and we continue to perform outreach for up to a week using a data-driven outreach cadence.
You free up your team to focus on selling, not telemarketing. EverQuote's telemarketers take over the most time-consuming activity in your office. EverQuote partners work up to 50% more leads and increase bind rates by up to 20%.
You build your prospect database for continued follow-up. If a consumer isn't ready to connect, we provide all the data you need to close them in the future.
In addition, EverQuote offers a wide range of live transfer calls products in auto, home, and life. These calls products offer agents a 100% contact rate, up to 4x higher quote and close rates (than data leads), and a 120 second qualification window to vet the prospect and decide whether or not to keep or reject the call.
This strategy is most beneficial for...
...almost all agents, but Lead Connection Service (LCS) particularly is beneficial for agents who want to expand their capacity to work leads (and grow) but who don't have the budget to add more producers than they already employ. Live transfer calls also can prove to be quick wins for agents looking to rapidly bind policies in any given month, or those who need to meet a quota.
"But I've bought live transfer calls before and they didn't work out…"

Is this what you're thinking? Before we go any further, let's make one thing clear: A live transfer is not an automatic sale. But as a strategy, it does lead to more sales overall.

For example, if Agent X buys 100 leads, maybe two-thirds of them turn out to be not viable. From there, they should:

Ignore the subpar two-thirds.
Focus on working the remaining third that were good. Why? Because a trained sales team member using a proven sales process will close no less than one-third of the live transfer calls. And that 33% is a great number! (Think about it this way: Even Hall of Fame baseball players strike out two out of three at-bats. But those hits that happen a third of the time land them in the record books—the best of the best!)

If you're focusing on the two-thirds of leads you didn't close, that's not the right mindset. If you can close one third, the math will work itself out and it will become profitable—as long as you're pairing live transfer leads with a proven sales process.
2. Create valuable online content for your ideal buyers.
A second method for getting warm leads for your insurance agency is to provide valuable content in exchange for a person's identifying information.
You can disseminate that information throughout Youtube, Instagram, Facebook, LinkedIn, and on a blog or website. Examples of good content might include:
A checklist of what to do after you're involved in a car accident
A video reviewing the checklist you previously shared
A blog post about the types of insurance you might need at specific times in your life
An interview with a client (tag them on social media!) about how their coverage benefitted them
The crucial step of this strategy is to actually gather the information from the reader. This is called a "call to action." For example:
"If you'd like to download this checklist, please fill out the form."
The form should include fields for a name, email address, phone number, type of insurance they're interested in, etc. (whatever is appropriate for the value you're giving away). You should also include CTAs in your content that direct people specifically to a contact page. For example:
"Think you're paying too much for your insurance? Contact [Agent Name] to learn what you should be paying."
For those who agree to give their information in exchange for your content, your agency can then nurture the relationship through future calls, emails, and text messages (if allowed).
This strategy is most beneficial for …
….agents interested in developing a long-term strategy for growth. Creating valuable content is a long-term play. It takes time to create and set up, so it is best for agents who are committed to consistently creating this type of content, and teams who will nurture the leads it produces. Because of the time required to get leads from this strategy, it is not recommended for agents who have a time-bound goal or deadline they need to reach.
3. Run ads on search engines...
Another option for generating warm leads for your insurance agency is to run ads on Google for your insurance agency. The people who call your agency through this method are typically high-intent by nature because they are searching for something you offer. Additionally, you pay only for results—you don't have to shell out money until or unless someone calls the number provided.
This strategy is most beneficial for...
...agencies who have big budgets and can afford to spend the money and time on this type of lead generation. It is very expensive, whether you DIY or hire someone to do it for you. The benefit is a very high rate of conversion, since the person who dials in was very likely looking for exactly what you offer.
Things To Remember About Warm Leads and Calls
1. Volume is key.
When considering warm or live transfer calls, your goal should be to close approximately one third of the number you purchase (if you have a thorough, proven sales process). Buying five or ten leads isn't enough to provide a good return. In my estimation, you need to buy at least 20–50 leads.
2. When you do any type of marketing, especially with warm leads or calls, you need a large sample size before you make decisions.
One of the biggest mistakes I see agents make is not having a big-enough sample size to make an informed decision. They scale or turn off their leads before they have enough data to really help them know what is working and what isn't. Give yourself time and volume to see if what you're investing in really is—or isn't—working. Tossing a strategy after just five or ten leads is not a wise move—you simply don't have enough evidence to make that determination yet!)
3. You don't have to use only one type of lead.
I recommend using multiple lead types to balance your budget and optimize your volume. I tell agents all the time that they should consider many types of leads depending on their goals—warm transfers, live transfers, direct mail leads, data leads, etc. The trick is to follow-up with a strong sales process and to measure everything you do so you can adjust what isn't working. (Bonus: This calculator can help you find out how much to invest into leads and marketing to hit your sales goals.)
Next Steps: What do you do with the leads once you get them on the phone?
If you have a good number of warm transfers coming in but don't have a good strategy for handling phone calls, the lead quality doesn't matter. You have to know exactly what to say! That's where this training can prove invaluable. Watch this free webinar now to learn what to say, and how and when to say it.