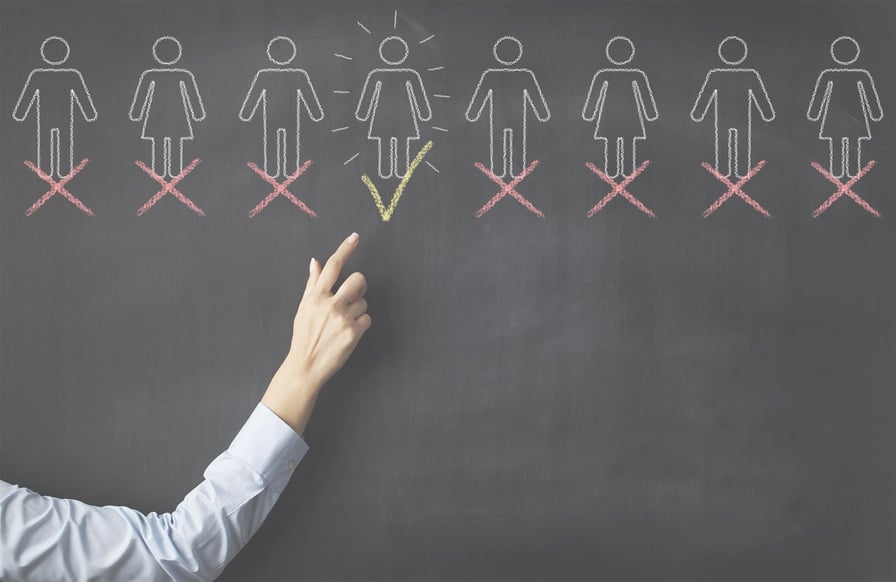 According to a survey by renowned global HR consulting firm Robert Half, a bad hire will result in 33% of wasted time; employee productivity will reduce by 27%, and increased stress on the manager increased by 20%.
For smaller organizations—like many insurance agencies– a poor hiring decision can even result in more than a loss of productivity or stress—it can result in a business failure. And in a highly competitive industry like insurance, the margin for error is often razor-thin.

Image sourced from roberthalf.com
But hiring for smaller sized insurance agencies isn't always easy. From budget constraints to competition from larger companies (and from companies in other industries) the never-ending search for skilled candidates can feel like an uphill battle.
It is important to note that attracting and retaining top talent requires consideration of neurodiversity. According to a recent study by Harvard Business Review, companies that hire a diverse workforce, including neurodiverse individuals, gain a competitive advantage.
So, how can you attract top talent without breaking the bank?
The answer lies in a streamlined recruitment process that attracts and retains the best talent. In this article, we'll explore ways to improve your hiring process.
1. Create a Recruitment Plan
The success or failure of your recruitment campaign will often depend on how well you plan it. Develop a plan that explains why you're recruiting for the position(s), how you plan to recruit, the process, the timeline, and the budget. Keep track of key HR metrics to determine whether you have met your goals.
The next step in creating your recruitment plan is to consider how the new hire will help your insurance agency reach its objectives and how this fits in with your short and long-term plans.
Finally, you will need to decide on the channel to advertise the position. Will you use your company website, job boards, social media, or your own network (or a combination of these)? The answer depends on several factors, including your budget, the competitiveness of the position, and your hiring goals.
2. Write Effective Job Descriptions
Once you have a solid recruitment plan, the next step is to write quality job descriptions. A well-written job description can attract top talent and help you weed out unqualified candidates.
To write an effective job description, start by clearly outlining the responsibilities and requirements of the position. Be specific about the skills and experience required and any certifications or licenses needed.
Use clear and engaging language, highlighting the benefits of working for your agency and the unique aspects of the position. Avoid using jargon or overly technical terms that may confuse potential candidates. According to LinkedIn, there is an 8.4% increase in applications per view for shorter, more concise job posts compared to average longer form job posts.
Make sure to proofread your job description carefully for any errors or typos. A poorly written job description can turn off even the most qualified candidates, so take the time to get it right.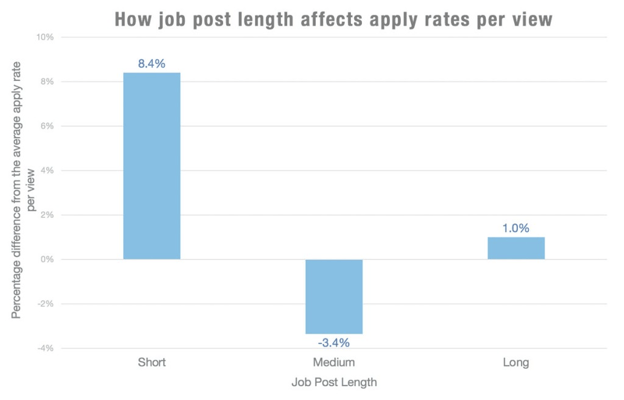 Image sourced from LinkedIn
3. Communicate Your Agency's Culture
Your company culture is your agency's personality and encompasses its values, beliefs, and behaviors. It sets your insurance agency apart from others and can be a significant factor in attracting top talent.
Hiring the best talent for your agency is about more than just finding candidates with the best skills or experience. It's about finding candidates that match your agency's culture.
Be transparent about your agency's culture during the interview process, highlighting the benefits of working for your company and what makes it unique. This will help candidates determine if they are a good fit for your agency and vice versa.
Additionally, showing employee appreciation is vital to creating a positive company culture and retaining top talent.
4. Pay Attention to Reviews
An online review study by leading HR consulting firm Randstad USA revealed that 57% of job applicants avoid companies with negative reviews. This is unsurprising because today, many of us check reviews before purchasing, booking hotels, and choosing restaurants. So, why shouldn't we do the same for our jobs?
After all, we spend the majority of our waking hours at work. Negative online reviews can mar a business—especially a small business like an insurance agency.
So, encourage satisfied clients and employees to leave positive reviews on platforms like Google, Yelp, and Glassdoor. Respond promptly and professionally to negative reviews, addressing the issue and offering a solution.
By actively managing your online reputation, you can attract top talent looking for a reputable and trustworthy agency to work for.
5. Utilize Technology
It may be worth investing in a comprehensive HR system that works with an applicant tracking system (ATS). You can use this to manage resumes and applications, schedule interviews, and communicate with candidates.
Investing in an Applicant Tracking System (ATS) can not only help you manage resumes and applications, track candidate progress and communication, but also ensure your compliance with hiring laws and regulations, further streamlining your recruitment process. There are also a number of options for talent acquisition software that can automate and streamline many aspects of the recruitment process, saving you time and resources.
You can also use video conferencing tools like Zoom or Skype to conduct remote interviews, saving time and money on travel expenses or consider investing in an employee app to make the entire process more efficient and user-friendly.
Social media platforms like LinkedIn can also be a valuable resource for finding and connecting with potential candidates.
With technology, you can attract top talent and streamline recruitment without breaking the bank.
6. Enhance Your Interviewing Skills
Most recruiters assume the candidate is the only one being interviewed, so they must impress. But as a potential employer or manager, you're also being interviewed.
The candidate will assess you to decide whether or not they want to join your company. So conducting a productive interview and hiring the right candidate requires skill.
Prepare a list of questions to assess the candidate's skills, experience, and cultural fit. Ask open-ended questions that require more than a yes or no answer to understand the candidate's thought process and problem-solving skills.
Active listening is also essential during an interview. Pay attention to the candidate's responses and body language to gauge their interest and enthusiasm for the position.
Also, make sure you respect the candidate's time and provide feedback promptly after the interview. This will help build a positive reputation for your agency and attract top talent in the future.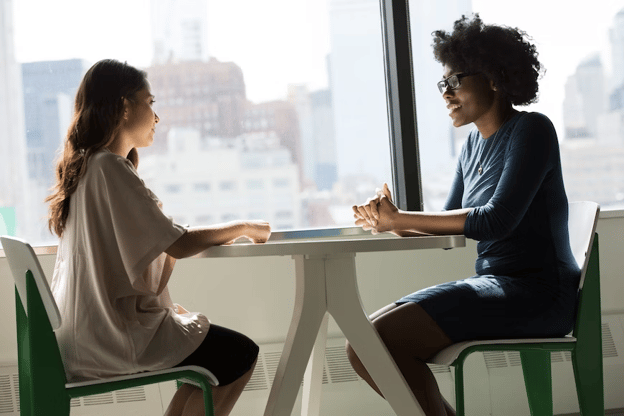 7. Make Use of Referrals
Another effective way to attract top talent to your insurance agency is through referrals. Referrals are a powerful tool in recruitment because they come from trusted sources. Encourage your current employees to refer friends and acquaintances who they believe would be an ideal fit for your agency.
Offer incentives for successful referrals, such as bonuses or extra vacation days. This will motivate your employees to participate in recruitment and help you more actively find suitable candidates.
Referrals also tend to have a higher retention rate than other hires because they already have a connection to someone within the company. Interestingly, 45% of referral hires stay longer than four years compared to only 25% of hires from job boards.
By using referrals, you can save time and money on recruitment while attracting top talent to your agency.
8. Provide Quality Employee Benefits and Perks
Employee benefits and perks are essential in attracting and retaining top talent in your insurance agency. In today's competitive job market, candidates seek more than a paycheck.
They want a comprehensive benefits package that includes health insurance, retirement plans, paid time off, and other perks like flexible work arrangements and professional development opportunities.
Enterprise payroll software can indirectly help you make competitive offers to potential hires by providing valuable insights and tools during the hiring process. It can contribute to making well-informed decisions when extending job offers by storing and analyzing historical salary data for different positions within the organization.
Several payroll systems can be integrated with other HR systems, making it easy to access salary data when extending job offers.
Offering quality employee benefits and perks attracts top talent and improves employee satisfaction and productivity. It shows you value your employees' well-being and invest in their long-term success.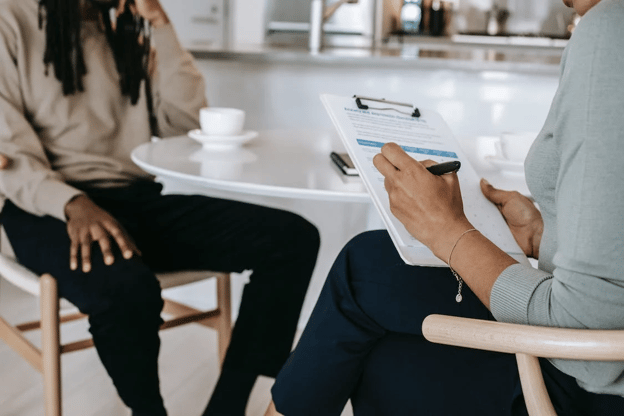 Preparation is Key to Recruitment

Attracting top talent to your insurance agency requires a strategic approach that involves utilizing technology, enhancing interview skills, using referrals, and providing quality employee benefits and perks.

By implementing these tactics, you can streamline recruitment, save time and money, increase retention rates, and build a positive reputation for your agency.

Remember to prioritize the candidate's experience throughout the recruitment process and provide timely feedback to maintain a positive relationship with potential hires.

With these tips, you can attract the best candidates to your insurance agency and set your business up for long-term success.