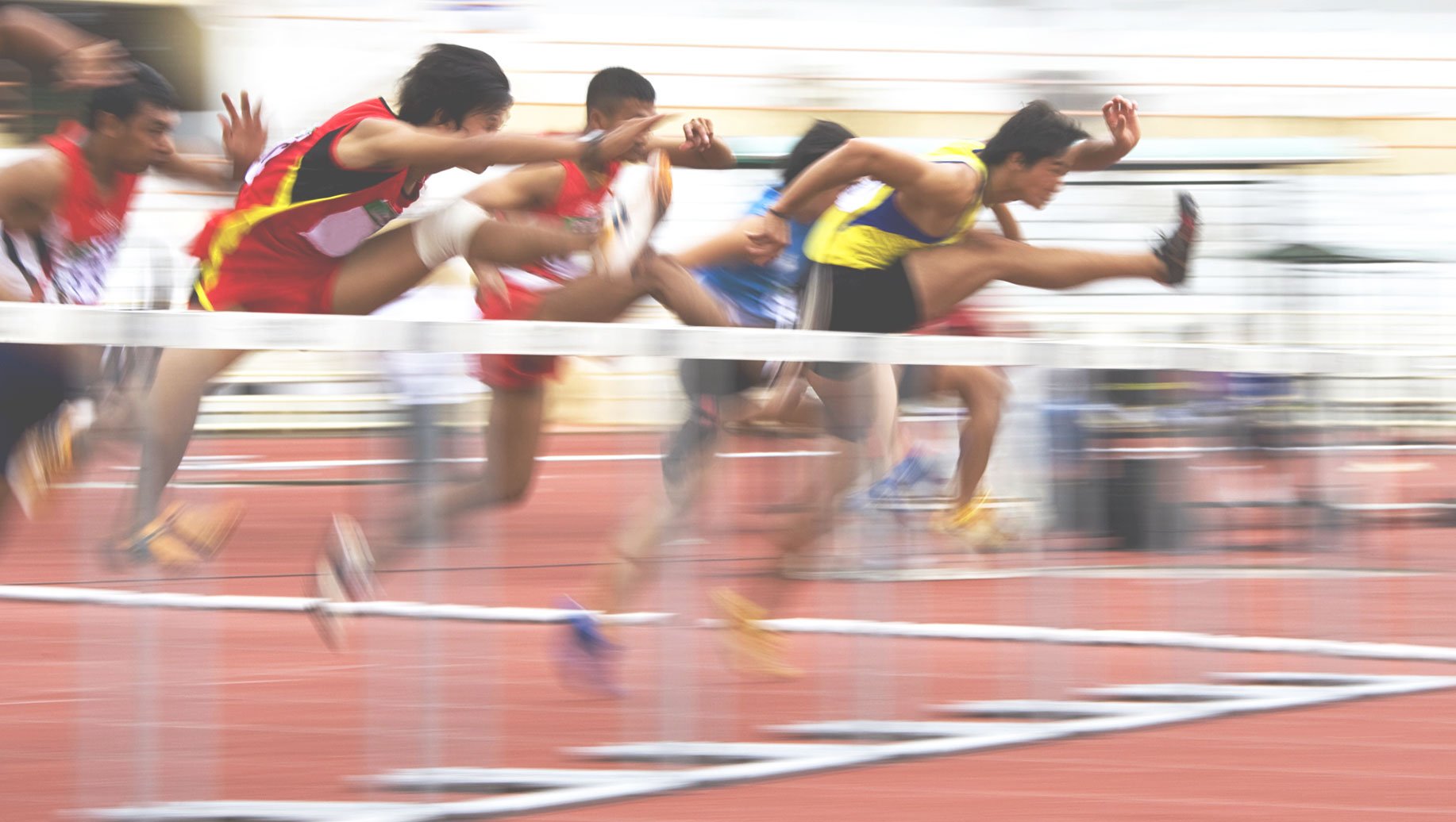 Almost every agent I've encountered—both experienced and new—has had to deal with insurance sales hurdles at some point. Most of these agents have one thing in common that hinders their sales growth: a lack of process. This article looks at the specific areas where that lack of process negatively impacts sales, and provides tips for ways to improve, so you have a chance to be more successful selling insurance.
9 Insurance Sales Hurdles
1. Not using talk tracks on your calls.
Talk tracks are tools that insurance agents and producers use during sales calls/conversations to make sure they get the information they need to qualify the opportunity and move the sales process forward. This also helps keep the conversation on a predefined track, so it progresses logically and your prospects are clear about what you're offering them.
A proper talk track should be able to take the prospect from introduction to quote in a way that flows smoothly. One of the most crucial elements of the talk track is having an effective opening. This is vital especially if producers are having trouble getting leads to talk. One effective opening that I tell agents to use looks like this:


Talk Track Example
Hi [LEAD'S FIRST NAME], this is [YOUR NAME] from [YOUR CARRIER]. I see you just filled out a form to receive a rate for your [AUTO MAKE & MODEL]. I have your rate right here, I just have a couple of quick questions to verify the information you provided. Sound good?

Using an opening like this tends to focus the discussion on the form they filled out, which re-affirms that the prospect was actually shopping for insurance and opens up the discussion to talk about why they were looking for an insurance quote.
Talk tracks should also be constructed to deal with common objections from prospects. Some agents will outline talk tracks for producers to follow, while some write out full scripts. What works best for your particular agency and producers might not work best for your competitor, but what's crucial is that producers have a logical formal process for prospecting conversations. Whether they memorize a script or not is really going to depend on your specific producers' sales styles, level of experience, and personalities.
2. Not using call cadences.
With EverQuote, you have 90 days to work the leads you've purchased—in that time, you need to make the most of your investment and work to try to quote and bind each lead. To do that, you need an effective call cadence. When used correctly, call cadences can have a significant impact on contact, quote, and bind rates. According to a number of different studies, 80 percent of new client sales occur only after at least five follow-ups. So having those follow-up touches mapped out in a process is crucial to consistently close new business.
If you don't have a call cadence that works for you and your producers, or you think your existing cadence could be underperforming, check out our free guide:


3. Being unprepared to face objections.
Have your producers been primed to counter common objections? I guarantee prospects will challenge your producers on many (if not a majority of) the calls they make, so they better be prepared to counter them logically, calmly, and without emotion.
To help coach your team, dedicate time to identifying and responding to the most common objections you hear. Then give producers an opportunity to speak to the objections as if they were talking to a real prospect. Use our guide, 4 Example Scripts To Help You Handle Consumer Objections, as a starting point. Then, you can add in any agency-specific objections heard frequently around your office.
4. Not calling leads back.
More often than we'd like to admit, producers and agents get angry leads on the line who will either hang up on them, yell at them, or otherwise belittle them. They often don't call those leads back (and we understand why!). However, touches are imperative to the success of your agency, so you must call back. Give the caller time to calm down before calling again, and never raise your voice. If you asked, nearly every tenured salesperson would be able to share stories of prospects who were initially hostile, only to soften up and respond much more positively when they were contacted again.
Another related issue that impacts both new and veteran salespeople is known as "call reluctance." Call reluctance is basically when a salesperson avoids making outbound sales calls. This can function subconsciously – for example reps might avoid prospecting calls by heavily focusing their time and attention on other tasks. And call reluctance is extremely common – research shows that 50% of purchased leads are called only once and are never followed up with a second call. Combine that with the fact that the majority of leads will require more than one call to close, and you have a recipe for a major close rate issue which can lead to revenue issues. Call reluctance is something that impacts salespeople of all stripes and tenures so it's crucial to not only set firm daily prospecting goals, but also to hold producers accountable for meeting those goals.
5. Relying on referrals only.
In our internet age, the reality is that most agencies can no longer meet their growth goals—especially when just starting out—by relying only on referrals. (Tweet this!) Putting yourself in a situation to win the most opportunities requires you to put yourself where there is the most volume. For agents today, that means the internet.
Agents who get this understand that the more consistent the leads they get, the better they'll do. That's why so many agents trust EverQuote to provide leads who are actually looking at purchasing home, auto, and/or life insurance. You can learn more about agents who successfully partner with EverQuote to help grow their businesses here.
6. Limiting your sales geographically.
Some agents complain about a lack of available leads, but many have contributed to creating this situation by not being open to expanding the radii of the places from where they receive leads. But the truth is, the most successful agents write entire states, not just their local areas!
With some carriers, agents can face pushback about trying to compete for sales in territories other than their own. In reality, geography often doesn't matter. When you choose to use internet leads, you're often not marketing to people who want to come into your office. These potential customers want a policy they need at a price they can afford, period, and the easiest way to find that policy is by shopping online.
These unwritten sales rules about only taking leads from certain areas and territories immediately surrounding the agent's office are an outmoded way of thinking. You are a salesperson. If you are the best at what you do, you're going to do everything humanly possible to make sure you're drumming up as much business as possible. Abandon the mindset of backyard and regional philosophy when dealing with internet leads, and you will see an impact.
7. Not using metrics to figure out which sales and marketing tactics work.
It kills me when agents I work with find success by expanding their territories or trying a new process, see more sales, and then go back to what they were doing instead of using the data to help them continue to grow. Insurance sales success begins with process, and a crucial part of that process is tracking your KPIs, so you can see what is working and what you need to tweak.
8. Not being creative with your sales processes and marketing strategy.
Trying to drum up business requires creativity. Look everywhere for possible ways to sell, and don't not try something because you're afraid of failure. Take smart risks when it comes to investing any marketing dollars, and adjust when and where you need to. Many prospects are used to the common tactics sales reps employ, so standing out and doing something different can go a long way.
9. Not investing money in things that build your business, like internet leads.
Here's the truth: Many agents have issues growing and scaling because they won't spend the money to invest in building their business and purchase intentful leads. Maybe they don't trust internet lead companies, or maybe they've been burned before; unfortunately, they are missing out on a huge source for potential revenue.
If you're wary, here's what you need to know about how to choose a partner:
Find a company that does real-time lead generation.
Avoid using aggregators! Depending on your strategy, for the majority of agents they are not a good use of money, and they often require a lot of leg work for your producers for not much ROI.
Do your research on lead companies. Use your carrier's message boards, network with successful agents, find out what your competition is doing. Find the people who are having success and ask what sales and marketing tips are working for them.
If you're trying to build a pipeline to grow your agency, EverQuote internet leads will set you up for success. You can learn more about us here. When you're ready, give us a call to discuss your agency's goals and what you're currently doing. We'd love to see how we can plug in to your process to help you meet and exceed your growth goals.