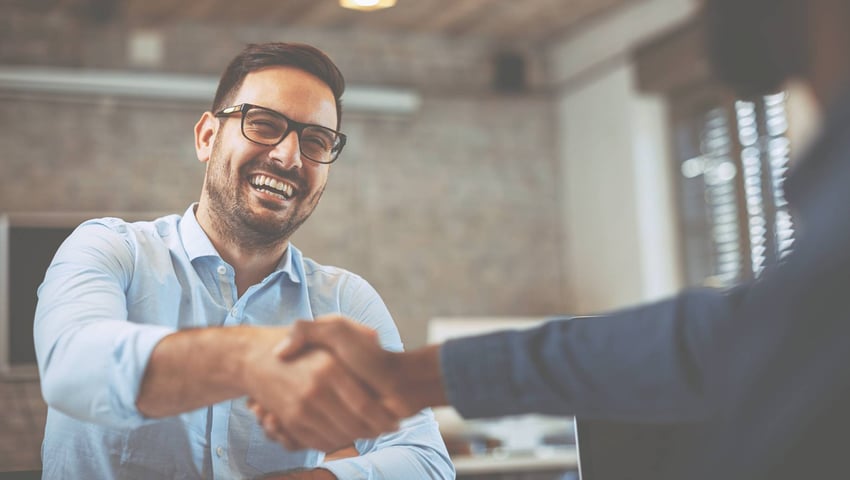 The magic of the second close.
It's every agent's dream (or at least, it should be) to bind more policies with the clients you already have. And fortunately, because your existing customers already have a relationship with you, it should be easier to multi-line them.
The best way to make these cross-sales is to focus on the processes that encourage your existing customers to buy more of your products.
And the key tool to help you get there is an insurance agency management system.
What is an insurance agency management system?
An agency management system (AMS) is a software or SaaS platform used by insurance agents to help them organize their book of business and run agency operations more effectively. A good agency management system will help manage an agency's book of business similar to a lead management system (LMS), offering automated tools for follow-ups and renewal campaigns. An AMS can even employ data science to help producers prioritize outreach efforts and focus on prospects that have shown common indicators.
Agency management system (AMS) vs. lead management system (LMS) vs. CRM: What's the difference?
An agency management system (AMS) focuses on helping you effectively manage your book of business and operations.
A lead management system (LMS) manages the front end of the sales process. An LMS should be able to connect to lead sources and vendors and do mass imports, so agents can effectively manage their team's productivity. Unlike an agency management system focused on current clients, an LMS focuses on leads and prospects.
A CRM is a "customer relationship management" platform, allowing agents to record details about customers and leads (potential customers) and record outreach efforts. CRM is often used interchangeably with the above terms. Both LMS and AMS are CRMs that serve two different purposes. (Learn more about how to choose a CRM in our article, Insurance Agent CRM Solutions: What's The Best Option?)
5 Key Features Of A Good Agency Management System
Integration with other software and products. Any good SaaS product, especially an AMS, should integrate with other products your agency uses. Ideally, you won't have to deal with many integrations because your AMS is so robust that it won't require duplication or overlapping products.
Flexibility. Will your AMS platform allow for your agency's growth? Will it scale as your company scales? How often does it update as you introduce other software and tools? These are all important features to consider when investing in an AMS.
Excellent customer service. This is obviously a huge component of any purchase but is especially paramount for a tool that will play a major role in your agency. The AMS you choose should have excellent onboarding, training, and support services; if possible, speak with current users of the software before committing and get their take on customer experiences.
Automated workflows. One of the key features of an AMS is that it helps you strengthen client relationships via automated messaging. Automated follow-up campaigns, renewals, and other communication are crucial. A good AMS should help you automatically bundle your products, so you have a better chance of retaining clients longer.
Simplicity. Less is more. If you have to connect 17 different tools to create one workflow, there will eventually be a breakdown. Look for an all-in-one AMS. The simpler you can make it for your team, the better the user experience.
Top Insurance Agency Management Systems Currently On The Market
According to Thomas Ariale, Customer Service Manager at EverQuote, there are many paid/subscription agency management systems available as well as those that are provided within different insurance agency carriers. Based on his experience working directly with hundreds of active insurance agencies, here are a few of Ariale's recommendations:
AgencyMVP

AgencyZoom

Blitz

DYL

Lightspeed Voice (fka The Follow Up Tool)

Ricochet 360

Advanced Reporting/ Dashboard

✓

✓

✓

✓

✓

✓

Appointment Scheduling

✓

✓

✓

✓

Auto Dialer

✓ (With Call Logic)

✓ (Adversus Dialer integration required)

✓ (With Call Logic)

✓

✓

Call Recordings

✓ (Lightspeed integration required)

✓

Click-to-call

✓

✓

✓

Email Drip Automation

✓

✓

✓

✓

✓

✓

Email Templates

✓

✓

✓

✓ (plus text templates)

Gamification

✓

Mobile Version

✓

✓

Multi-line Quote Ability

✓

✓

✓

✓

✓

Note Management

✓

✓

✓

✓

✓

✓

Social Media Integration

✓

✓

✓

Text Messaging

✓

✓

✓

✓

✓

✓

Carriers Supported

Allstate

Farmers

Independent Agents

Allstate

Farmers

Allstate

Farmers

Independent Agents

Allstate

Independent Agents
How To Select The Best Agency Management System
If you don't yet have an agency management system, do your research to find a system that includes both an LMS and AMS in one platform.
If you already have an AMS, make sure it connects via API or webhook with your LMS. Bilateral communication is crucial because your agency needs instant connection between both sides of your organization. If your AMS can't connect to a CRM, we suggest reevaluating and looking for a tool that can. Try to avoid manually connecting them if at all possible—it's not a good use of your producers' time, and these piece-mealed systems are prone to breakage.
Learn More
To learn more about how an agency management system works and find out if it might be a good fit for your agency, contact one of the vendors we've highlighted today:
If you're ready to strengthen your leads pipeline with America's largest online insurance marketplace, schedule a call with EverQuote today.