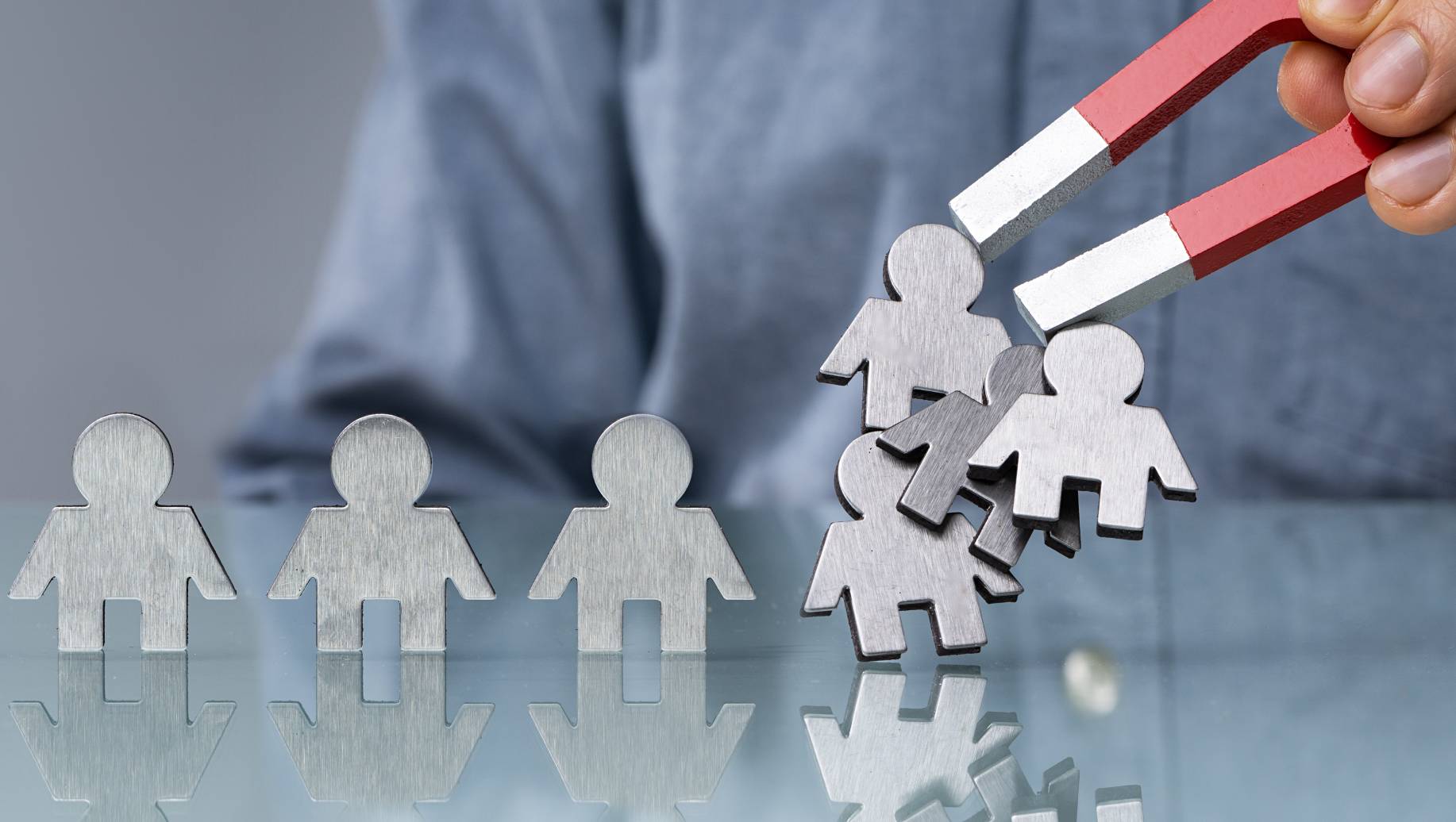 If you're an insurance agent focused on making sales and growing your business, you may have wondered about the differences between demand generation and lead generation, and what sort of benefits each approach can offer.
Many agents assume that demand generation and lead generation are the same, or that demand generation is merely an updated version of lead generation. Although both approaches use similar tools and activities, they are different tactics that can work together to help fill your sales pipeline and close sales.
Demand generation is the process by which agents offer free and helpful educational content and tools to potential customers to create "demand" for your products and services. Lead generation enables agents to take this process of demand generation one step further by collecting actionable information on potential customers to convert them into leads who agents can then guide toward a sale.
The primary difference between these two approaches is this:
Demand generation attracts customers to you. Lead generation ensures you have the information you need to begin to meet the customers' needs and attempt to sell your products and services to them.
"There's a journey the buyer goes through," explains Greg Wright, agency business consultant at EverQuote. "You need to put yourself in the buyer's shoes, and demand and lead generation help with that."
Lead & Demand Generation Differences
"The really big difference is that demand generation focuses on driving awareness and increasing audience. Lead generation aims at driving sales," says Wright. "People driven through lead generation are ready to purchase, whereas people driven through demand generation are typically looking to learn more about the space or the company."
Sometimes used interchangeably with the terms lead generation and inbound marketing, some marketing experts consider that demand generation incorporates inbound marketing, content marketing, and email marketing.
With regard to the marketing funnel, demand generation attracts potential sales prospects who can be considered "top of funnel." It nurtures them with content until agents can qualify or confirm that these prospects are interested in the product or service they have to offer, and that this product or service suits their needs. In the lead generation phase, an agent captures contact information from these prospects, such as name, phone number, and email address. Using this contact information, agents can communicate with prospects to nurture relationships and hopefully drive sales.
Ideally, demand generation experiences recognize customers' unique problems and provide information and solutions at no obligation or cost. Demand generation content and activities should draw the potential customer to the agency, rather than the agency approaching the customer. Solutions offered may not be related directly to the product. For example, an agency may run a blog post on how to choose a house painter, a topic which may or may not refer to any liability issues covered by insurance policies. By offering free and helpful resources, as an agent you can help build trusting relationships with potential customers. Demand generation can then progress to lead generation: as these potential customers learn the value of your free content, they ideally seek additional valuable content that they can access only by sharing their contact information with you.
Lead Generation vs. Lead Qualification
Lead qualification is one aspect of lead generation. When potential leads provide their contact information, they enable insurance producers to begin a dialogue with them. By contacting leads to learn more about their unique situations and insurance needs, an agent qualifies them as sales prospects. By dialoguing with prospects over time and answering their questions, the agent can ideally move them to buy a policy. Read our lead generation for insurance playbook to learn more.
Demand Creation vs. Lead Generation
Demand creation is another name for demand generation that describes efforts to build awareness for new brands' products and services. This process is distinct from lead generation, which focuses on driving motivated customers to actually buy those products and services.
Demand & Lead Generation Content Types
Although the written content and experiences for demand and lead generation sometimes overlap, agents frequently use specific content formats for each marketing approach.
Demand Generation Content—Demand generation content should attract customers to your business. This content is free, purely educational, and provides solutions to the problems of potential customers. Examples include blog posts, articles, social media posts, and webinars.
Lead Generation Content—After you establish a trusted relationship with a prospect through demand generation, the process moves to lead generation. Here you provide other valuable content to potential customers in exchange for their contact information. This content is "gated" or available only when customers complete a form. Examples include white papers, e-books, email subscriptions, workbooks, webinar subscriptions, templates, and checklists.
Demand Creation & Lead Generation Through The Marketing Funnel

These four steps show how demand creation and lead generation follow the buyer's journey through the marketing funnel:

Attract attention to your business.
Build trust and bolster your reputation.
Provide value in exchange for prospects' contact information.
Qualify leads and guide them to sales.
How do lead and demand generation help agents better sell insurance?
Understanding how both approaches work is essential to insurance agents' success, particularly for independent agents. Captive agents often receive marketing support from their companies. Corporate marketers create much of the top-funnel or demand generation marketing material, including TV ads and social media posts.
Independent agents, however, may need to take on the challenge of promoting themselves through demand generation content, such as Twitter and Facebook posts, blogs, print materials, and billboards. When an agency creates its own demand and lead generation materials, it helps promote the agent's unique brand. But, because few people have the time or talent to master all trades, agents working on more advanced marketing approaches, such as leveraging SEO, might require support from a marketing agency.
For all insurance agents, demand generation efforts are particularly important because demand generation creates a sense of community and reinforces the agent's loyalty to that community. "People are more likely to buy from you if they feel a connection to you as someone who they think can help them," Wright says. "It's easier to get them interested and ultimately close the sale."
However, Wright also cautions that demand and lead generation efforts may not result in the same level of high customer volume that comes from partnering with a lead generation vendor like EverQuote. Quality leads also often start as referrals. Learn more from our article about how insurance referral programs can create substantial business.
6 Best Practices For Demand Generation & Lead Generation In Insurance
"Both lead and demand generation should fit into every insurance agent's marketing mix," says Wright. But to succeed in marketing, you must first ask what mix of these two approaches will best serve your target customers. Then, consider these best practices:
1. Understand the demand generation audience.
As with so many marketing and business tactics, success starts with a strong understanding of your target customers. For example, print materials, such as mailers, may work better with an older demographic or with new homeowners whose mailboxes are mostly empty. Conversely, social media has become so widely used in our society that it's nearly always a viable option for communicating with potential customers. "Social media is a solid starting place because today all ages are online," Wright says. Social media provides a way for customers to connect with you and for you to build a sense of community with them.
2. Compare strategies with colleagues and competitors.
Are you just starting your agency? Check out the types of marketing materials that other agents in your area are using, especially agents from the same carrier. Another excellent strategy is to find out the demand generation strategy of the top performers in your area.
3. Create a social media presence.
For new agents, Wright advises, "I skew toward first building an online presence. Social media posting—and regular updates—builds your reputation and your search ranking." You can then build on that online presence with offline items like flyers, popup shops, billboards, and more. "This establishes you in your local community," adds Wright.
4. Publish SEO-optimized blogs.
As an insurance agent, it's important to make sure your blog content is SEO (search engine optimization)-optimized. SEO makes it easier for potential customers to find your blog when they're searching online for solutions. When a link to your blog appears high on a search return page, it helps build your online presence and reputation. "Blogs show that you know what you're talking about," says Wright.
5. Focus on one media channel.
An important consideration with any digital material—especially demand generation content—is to post regular updates so your content doesn't stagnate. Additionally, it's better to pick only one media channel and regularly update it, rather than spread your marketing resources too thin and fail to support them. For example, if you choose to post on Twitter, post every day, if not two or three times each day.
6. Have patience.
What many agents frequently don't understand about sales is that the close is usually not immediate. "Agents might think that every single consumer who's interested is a sale," Wright emphasizes. "It's a process of nurturing the relationship. Just because someone offers their information, it doesn't mean they're going to buy from you." He says you need to actually take the time to cultivate a relationship: "To get a sale, you have to create a demand. And you're not going to create that demand if you're going for the sale. No one wants to be sold to about something they don't know. You need to build up interest before and then drive them into that lead generation space.
"Just doing some of these little things, like regularly posting a blog, is going to help agents start their demand generation," adds Wright. "Creating awareness should lead customers to be interested in materials like white papers or webinars." After setting the demand for your products and services in motion, it's about listening until you can close the sale with the right insurance solution for the right customer. Find insurance sales tips to help with your listening and closing skills in our Everquote resources.