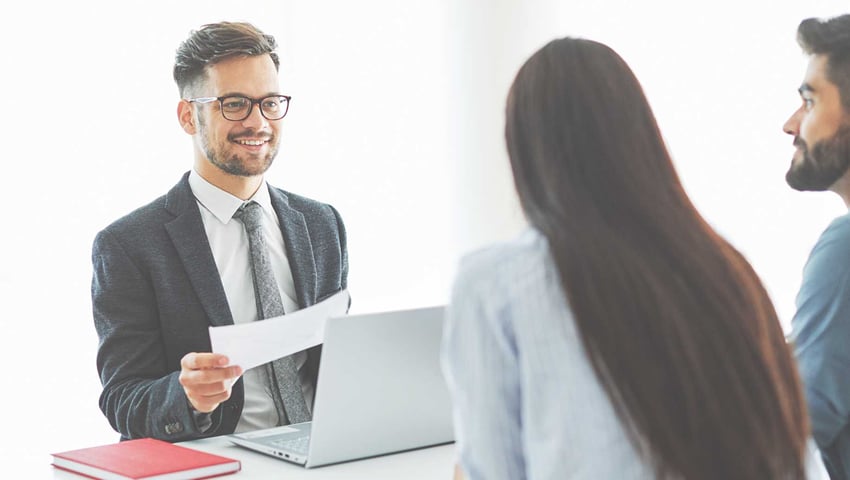 When deciding to be an insurance agent, you have two options: You can choose to be appointed as a captive agent or as an independent agent. If you're considering the industry, it's crucial to understand what both types of agents do and how they operate in order to make the best decision about your future.
If you're wondering what it's like to be a captive agent, you're in the right place. Here you'll learn about the captive agent experience from longtime insurance agent Chandler Hahn.
With nearly two decades of experience in the industry, Hahn has worn every hat from underwriter to claims representative to what he is today: an agency owner with a busy team of personal and commercial agents. Here's his take on all aspects of the job, from the benefits of being a captive agent to job requirements, market conditions and more.
What is a captive agent?
The definition of a "captive" (or "exclusive") agent is someone who commits to exclusively selling a single insurance carrier's policies. Captive agents benefit from the company's support, including client referrals. They also typically get access to an office, administrative staff, and technology and equipment. Captive agents are paid a salary and commissions, and the company helps them stay licensed and compliant. With ten's of thousands of captive insurance agents in the United States, captive agents make up a notable portion of the total number of insurance agency owners in America.
Captive insurance agents don't have the flexibility to sell whatever products they want and comparison-shop on behalf of customers——they cannot sell products outside their carrier's offerings. However, they are provided with structure, guidance, and rules from the carrier, as well as regulatory guidance that shields them from liability.
What is an independent insurance agent?
Unlike a captive agent, an independent agent can sell policies from multiple vendors. Typically, the more types of insurance independent agents can sell with different companies, the more money they can make. However, in most cases any gap in pay can be negated by following the captive companies compensation plan closely.
Where do captive agents work?
Captive carriers include the following companies:
Farm Bureau Insurance
State Farm Insurance
Allstate Insurance*
Farmers Insurance
*Note: While Allstate is a captive carrier, the company does allow independent agents to write policies. However, these agents are not branded under the Allstate name.
Captive agents operate from their standalone offices most frequently, but can also work out of their homes. Typically, larger agencies will have office locations that house multiple agents and producers as well as their support staff.
Is a captive agent an employee of the insurance company?
Captive agents are usually independent contractors (1099) for the carrier they work for. Essentially they still run their own agency while respecting the guidelines and compliance
of the company they work under. Think of being a captive agent as similar to owning a restaurant franchise: you can run your restaurant within the brand guidelines of the restaurant group, and your restaurant can only sell whatever the company allows you to sell. Similarly, captives can sell only the products their carrier allows them to sell, and they have to follow the procedures and guidelines that the carrier establishes across all the agencies in the company.
What is the working relationship like between a captive agent and a carrier?
When appointed as a captive agent, you generally start out one of two ways – either you start out without an existing book of business (also called "scratch"), or you have an assigned, pre-existing book of business. In my experience carriers usually offer scratch agents (who do not start with a book of business) a more lucrative commission schedule to help them get off the ground. With an assigned books of business, the agent will be given the normal commission structure.
In my experience, the relationship between agent and carrier is much more actively engaged when you are captive vs. independent. The captive company has a much larger support network for training and resources to help agents thrive as small business owners. You do not pay for these career resources in most circumstances, however you will typically have some money pulled from your commission for equipment you may buy or lease through your carrier, as well as any company sponsored marketing you sign up for. Insurance carriers with captive agents are able to conduct oversight through compliance checks, as the systems you use (your email for one example) the carrier will have access to.
How much autonomy do captive agents have?
Captive agents have autonomy in how they run their businesses as long as they are operating within the established guidelines of the carriers. Captive carriers typically have stringent regulations in place to protect the brands they've established—these regulations may relate to anything from sales procedures and text messaging rules to using only approved computer hardware, marketing language, and even what you can call yourself as an agent.
The rules vary from carrier to carrier, and it's possible for agents to lose their appointments if they neglect to follow carrier guidelines and policies. This could be devastating to a captive agent, because if you're fired, you can lose your book of business completely. For this reason, captive agents must understand all their specific obligations and company guidelines when becoming appointed agents.
Common Misconceptions About Being A Captive Agent
Some independent agents are of the mindset that captive agencies are too rigid in the way they do business. However, this is simply not true. In my experience, if you thrive on structure and guidelines, a captive agency is a great decision for you. A carrier's philosophy and system have proven to be successful, and you can be successful, too, if you follow their guidance. After all, those guidelines and rules are the foundation of the company's success.
How much money do captive insurance agents make?
According to Glassdoor, the estimated total pay for a captive agent is $124,558 per year in the United States, with an average salary of $85,654 per year. However, this estimate is just that—an estimate! Plenty of factors can affect this range, including your location, how hard you work, the types of policies you're licensed to sell, and how long you've been in business.
Each carrier has a unique compensation package, so when you're looking at carrier options, be sure to inquire about it. Also ask about their overall company philosophy, the types of products they want agents to sell (or if they require them to sell every policy they offer), and their product depth.
The answers to these questions, matched with your strengths and skill set, will help you understand which types of carriers may be a good fit for you.
Ultimately, whether you decide to become a captive agent or an independent, your earning potential depends on finding a good fit and then working hard. Selling insurance can be challenging. It's competitive, requires long hours, and takes hard work to succeed.
The payoff, however, can be significant. After all, everyone—renters, homeowners, business owners, and drivers—needs insurance. More than half the U.S. population has health insurance and life insurance. And disability, liability, dental, and pet insurance are all popular forms of coverage.
And though the insurance industry is being faced with major disruptors—things like driverless cars, which require lower premiums because they're less prone to accidents—people will always want a human touch when they find themselves in a vulnerable position (like an accident). For that reason, agents who care about their clients—and work hard to build and grow their businesses based on relationships and good service—will likely find success no matter what the future holds.
5 Benefits Of Being A Captive Agent
1. You are associated with a "name brand" that prospects know and trust, which makes growing easier.
When potential clients recognize your captive agency, they're more likely to believe you've been vetted and know what you're doing in running your agency. This is an immediate benefit, because even if you're a brand new agent, you have the backing of a carrier who can train you and give you best practices at any stage of your growth.
Along with the name brand comes the systems, processes, and tools a captive carrier provides all of its agents:
Technology, including computers, IT support, a website, phone systems
Subsidies for your marketing efforts
Field specialists to support you
Training, learning and development, and engagement opportunities funded by the carrier
Marketing and sales training
A CRM platform for sales
2. You have carrier guidance.
There's a playbook (and a rule book) for everything when it comes to captive carriers. Corporate offices offer guidance, provide training, help template out processes, and help with networking for all of their agencies. Similarly, they know what works in attracting business, and can help you as you get started.
3. You have carrier support.
One of the best aspects of being a captive agent is the built-in support network behind every agent. Whenever I have an issue or question, I can call the corporate office and ask. Almost always, they've experienced this situation before and know how to help me.
4. You get protection in tricky situations.
Many people assume a carrier's rules will be a source of frustration, but in my experience, these rules are beneficial—if you're following them, your carrier will shield you from legal issues and liabilities. You won't have to take on sticky situations alone because you'll have the backing of a corporate legal team (and documentation to prove it). This is an invaluable asset.
5. Captive agencies are "plug and play" and can work right away.
One huge benefit of belonging to a captive carrier is that your agency is essentially ready to go when you get started. You can open an agency and run it according to your carrier's specifications, and you won't encounter the "learning experiences" or expensive mistakes that come with starting an independent agency from scratch. You have a template for success as long as you operate under the rules the carrier provides. Additionally, captive agencies get immediate access to marketing and sales training, and best practices for servicing policies and sales.
Why should you choose to be a captive insurance agent?
If you are a hard worker and want the oversight and support system of a proven brand behind you, choosing to be a captive agent is the best decision for you. While you won't have the freedom to do everything exactly how you personally might think it should be done, you will be immediately provided proven processes, systems, and backchannels to help you succeed—as long as you do the leg work. The difference between being an independent agent vs. a captive agent is like the difference between being provided with a bow and arrow and dropped into the wilderness vs. being hosted at a campsite with supplies, tools and a guide. Either way, you can go out and hunt—but with the campsite, you always have a place to return to and the tools to help you be successful. The same is true with a captive agency.
At EverQuote we're committed to supporting agents period. Whether you're captive or independent (and we work with thousands of agents across the spectrum) you'll need a steady supply of new business – this is where partnering with EverQuote can have a huge impact on your business. As America's largest online insurance marketplace, we bring you high-intent insurance shoppers delivered to you in real-time, as they shop for auto, home, or life insurance. The service includes advanced targeting and dedicated customer support, among other user benefits. Click here to schedule a tour of EverQuote's tools with one of our experts.