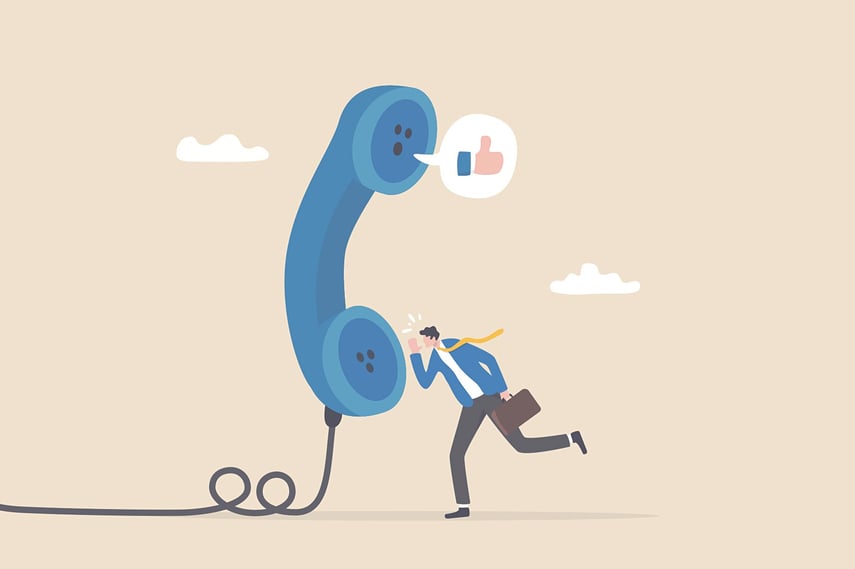 For a significant number of insurance agents today, dedicating hours to calling internet leads is a seemingly unavoidable part of running their business and hitting their sales goals. But what if there was a way to take a significant portion of those outbound prospecting calls off you (and your team's) plate? That's where EverQuote's Lead Connection Service (LCS) comes in!

What Is Lead Connection Service (and Why Should Insurance Agents Care About It)?
With Lead Connection Service, you purchase data leads as usual, but rather than you (or your producers) calling them, EverQuote's team of professional telemarketers reach out to your leads as they come in, ultimately allowing you to work (and bind) more leads. In fact bind rates with LCS average up to 31% higher compared with data leads alone. With LCS, EverQuote dials out to your leads for up to 7 days, transferring any live prospects that they manage to connect with over the phone to you (and your team). But the great part about LCS is that (unlike a live transfer call) you still receive all of the prospect's data (for example 42 pieces of information for auto leads) and can continue to follow-up with any leads that our telemarketing team wasn't able to connect with during those first 7 days. And while the price of live transfer calls can run into the $100+ range, with LCS aside from the cost of the data leads you purchase, you only pay a small monthly fee to cover the telemarketing services.
To help you get started with Lead Connection Service (or take your results to the next level), I'd like to take you "under the hood" (so to speak) and share a number of "best practices" that I recommend to all my clients using LCS. Calling leads can be extremely time consuming and keep you and your team from focusing on revenue generating activities like cross selling. That's why (according to carrier testing data) agents using LCS (on average) are binding +31% more business than those just using data leads alone.
Scripts & Talk Tracks for Contacting Your Lead Connection Service Leads
First Contact with a Lead (via Text Message)
"Hi there, I don't want to bombard you with phone calls. My name is (name), I'm a local insurance agent and I've been matched up to help you. I have your quote ready but I do have a couple questions, when would be a good time to chat?"
First Contact with a Lead (via Email)
If you decide to provide a quote push, make it as competitive as possible. You can use the same template as the text message example above but make this email personable, short and be sure to mention that you're in the business of helping people save money while providing dependable coverage. Also mention that because they filled out a form online other agents may be calling and to make this process less of a headache for them, they should get in touch with you sooner than later so they don't have to deal with multiple agencies.
First Contact with a Live Lead (over the phone)
"Hello, (customer's name) I have a quote ready for your (make, model, year) I just need to verify your date of birth to ensure I give you the most accurate quote."
Following Up With LCS Leads
Recommended Contact Attempt Cadence:
Day 1 - Email / Text
Day 4 - Call once and don't leave a voicemail
Day 6 - Call once and leave a voicemail
Day 7 - Email
Day 10 - Call
Day 14 - Call and Email
Day 18 - Call
Day 25 - Call
Day 29 - Email
Day 30 - Call
Day 45 - Call
Day 60 - Call
Dealing With Common Objections from LCS Leads
'I did not request a quote'

"Not a problem at all, I already have a quote ready for you. Just to verify is your date of birth ______?"


'I've been called too many times'

"I completely understand your frustration! I definitely don't want to take too much of your time, I can make this as quick as possible because I already have all of your information. I just need to verify your DOB and license number so I can ensure the quote I am sending you is accurate."

'Stop calling me, I wanted to do this online'

"Not a problem at all we can definitely communicate online! While I have you on the phone I just need to verify your date of birth to ensure that I send you the most accurate quote possible." (build rapport, ideally, we want to keep them on the line to quote)

'I'm not free to talk at this moment'

"Not a problem. Would it be more convenient if I sent you a text message?" (if yes, verify the date of birth before they hang up. If no, ask to quickly verify their birthdate so you can ensure you are sending them the most accurate quote.)

Once you've made contact with a lead, you'll want to take them through your established sales process. If you need help with post-contact scripts, talk tracks and strategies, don't worry - we've got you covered! Check out our eBook – A Winning Insurance Sales Conversation Process in 8 Steps or visit our extensive library of training webinars covering everything from lead conversations to hiring and recruiting strategies.