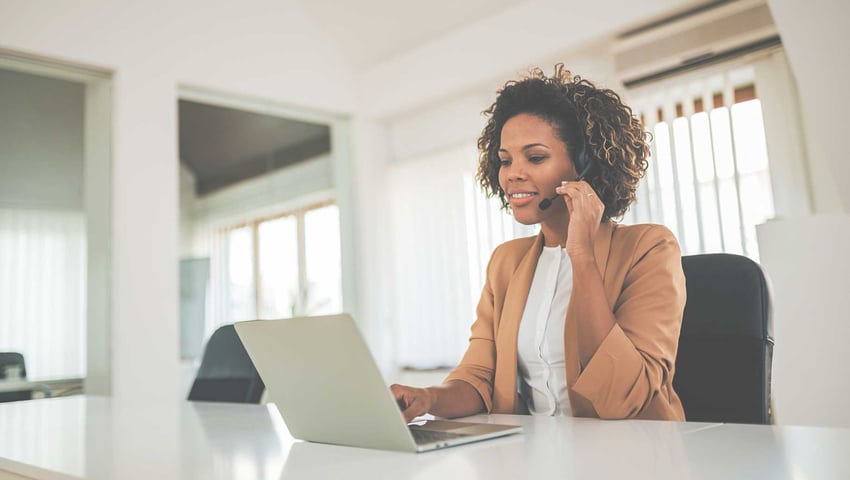 At some point early in your career, you may have had to collect information from prospects in person or over the phone. It may be an unhappy memory; you most likely dealt with people who were frustrated because they had to sit and fill out a lengthy paper questionnaire or divulge what seemed like their life story to a faceless person on the other end of the line. The amount of information varied based on the type of insurance, but nearly every prospect thought you were asking too many questions.
Thank goodness we've moved past that and embraced insurance quoting tools. They make the quoting process much easier for both agents and potential customers.
But is insurance quoting software always the answer? Below, we take a closer look at the pros and cons of this solution, and reveal the tools industry professionals most recommend.
Insurance Quoting Software: A Breakdown
Insurance quoting software is technology that eliminates the cumbersome, manual data gathering agents traditionally do with prospects to produce a personalized insurance quote. The software automates much of the quoting process, making it more convenient for both agents and prospects.
There are quoting tools for nearly every type of insurance, from life, health, and auto to renters, travel, and pet insurance. Insurance quoting tools typically have several core features—like calculators, option comparison, chat, customer service management, etc.—that help agents connect with prospects and collect information efficiently. For the most part, these tools are beneficial for agents, though there are a few "cons" to be aware of.
Pros
Speed. "Quoting tools are valuable because they're able to quickly show customers the information they're looking for to make an informed decision on their insurance plan," says Ann Martin, director of operations at CreditDonkey.
Neutrality. "This type of software is also great for presenting yourself as a neutral advisor, helping your customers choose between options in an unbiased manner," Martin explains.
Accessibility. "With insurance quoting software, there's no more paperwork," says Josh Snead, CEO of Rainwalk Pet Insurance. "Manual insurance quoting involves a lot of worksheets and other physical documents that you must print, store, and keep organized. In digital form, you can access all pertinent data from any device."
Credibility. "Quoting technology lets your prospects know you have a systematic approach to helping them find the best products for their needs," says Johannes Larsson, CEO of Financer.com. "This makes them more confident about working with you and listening to your recommendations."
Cons
Inaccuracy. "Insurance quoting tools can often present inaccurate estimates or irrelevant coverage," says Jiten Puri, CEO of PolicyAdvisor. "This is mainly due to prospects entering data themselves, instead of an experienced agent who will be able to better match coverage with the prospect's needs."
Bias. "Quotes from insurance software can sometimes be biased against certain demographics such as women and people of color, and neighborhoods that are predominantly Black or Hispanic," says attorney Jonathan R. Brockman. "These prospects will likely see higher rates for car or homeowners insurance, which may push them away."
The 7 Best Insurance Quoting Tools
Below are several quoting solutions professionals from multiple industries recommend.
"One insurance quoting tool I've had a positive experience with is TurboRater," says Larsson. It offers quotes for auto, home, dwelling fire, and motorcycle insurance. He notes that the software is compatible with all the commonly used customer relationship management (CRM) solutions and includes most insurance providers. "I highly recommend it to car insurance agents who want an easy solution that will work with their current workflows."
"One of the best solutions for insurance quoting I'm aware of is [Applied Rater], which is used by over 500 insurance companies across the nation and quotes a broad array of insurance lines," says Brockman. Some of these insurance lines include auto, homeowners, boat, trailer, renters, umbrella, condo, flood, and even toys.
Quotit focuses solely on health insurance, and it's a solution that Aaron Masterson, founder of Local Furniture Outlet, says is a "rarely discussed tool, even though it should be."
Masterson notes that Quotit helps agents quote a variety of consumer niches—group and individual health markets, under-65 term life, critical illness, and accident. "Unfortunately, it doesn't have a health rater or company rate increase history."
HealthSherpa is another solution focused on quoting healthcare insurance. Masterson notes that it's one of two quoting solutions that became popular after the enactment of the Patient Protection and Affordable Care Act (PPACA). "HealthSherpa has a low price to process applications more easily than Healthcare.gov, including an agent-facing website and built-in CRM to help track applications."
InsuranceToolkits is one of a few insurance quoting tools designed for final expense, term life, and Medicare supplement insurance agents. Randy VanderVaate, CEO of Funeral Funds of America, recommends this tool because it "provides accurate, unbiased quotes. You can compare quotes from multiple insurers in minutes. It's also very easy to use."
Leadsurance is a digital marketing solution that includes insurance quoting software. Siva Mahesh, CEO and personal finance expert at Dreamshala, says Leadsurance combines automation and artificial intelligence to collect information quickly from prospects to generate quotes. Its main feature is an automated chatbot that provides these quotes in real time. This approach is more convenient than a lengthy web form."
"One of the best insurance quoting tools is EZLynx," says Jake Smith, managing director of Absolute Reg. EZLynx offers multiple products you can bundle together, including consumer quoting, management system, rating engine, and more.
"The most standout feature is the solution's Policy Sync, which provides an updated rating application that gives you a competitive advantage in the market," Smith explains. "During renewal, when customers are shopping around for better premiums, Policy Sync will systematically contrast your policy with your competitors, so you can easily update your prices and re-quote to retain your clients."
All of the above quoting software options may be among the best in the market, but that doesn't necessarily mean any one of them is right for you! It all depends on which features you need for the unique insurance business you run. We recommend reviewing each solution in more detail, and talking to company representatives to see a demo and ask questions.