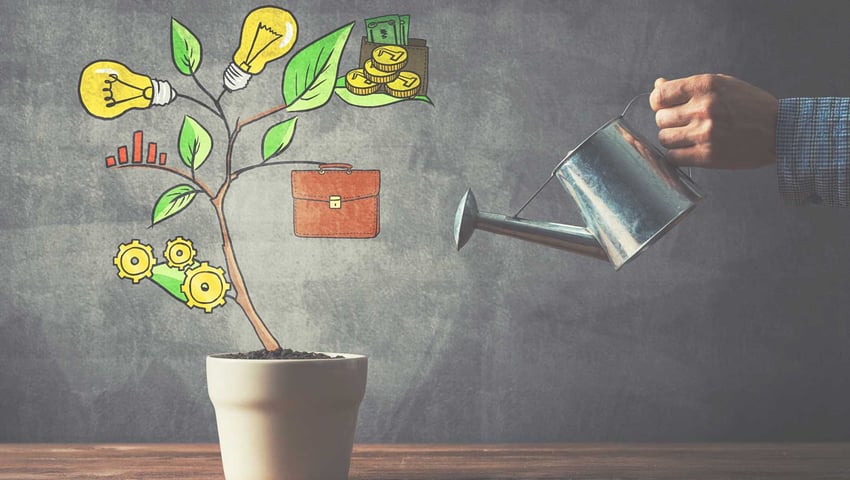 If you're considering becoming an insurance agent—or if you're already an agent looking to inform and adjust your salary expectations—you may be wondering: Exactly how much does an insurance agent make?
This answer to this question varies quite a bit depending on your location, commission level, number of sales, and level of independence. But one principle remains the same: demand for insurance is constant, and opportunities abound for you to learn, advance, and increase your salary over time.
One of the most important factors affecting take-home pay is your level of independence. Are you an independent agent with your own office? Or are you a licensed provider working at another agent's firm? These different scenarios—essentially the difference between being a CEO of your own small business vs. an employee—present unique pay considerations. Below, Thomas Ntuk, an insurance sales leader with over 43 years of experience, covers basics for both types of agents—those who are independent and growing, and those working as part of a team of agents.
How much does an insurance agent make?
Let's start off with some general parameters: According to Indeed, the average insurance agent in the U.S. makes $58,316—but depending on your level of independence and location, that could range from low five-figure paychecks all the way to the upper six figures.
A more useful figure to talk about is your potential commission: the percentage of your customers' insurance premiums that you get to keep as a significant part, or as the vast majority, of your final salary. Below are some common commission numbers for agents selling various types of insurance:
Health insurance: 5–10%
Automobile insurance: 8–10%
Residential and business insurance: 10–20%
Life insurance: 20–80% first year then declining (e.g.: 30% first year, 10% second and third, 3% fourth, and 1% servicing commission in years following)
TIP: If you're an independent agent seeking ideas for which policies to pursue, consider selling more of the higher-paying policies on this list, then using the extra cash flow to open an office, hire team members, and eventually diversify your policy offerings.
These figures are only a starting point for you to calculate what you could be paid for your time working. There are many factors at play, like base pay in addition to commission, that decide exactly how much. Does an insurance agent make an hourly wage? Not exactly. In most cases, you'd need to learn your real pay and divide it by the hours you worked in order to calculate that for yourself—the more relevant questions here are about your base pay and commission rate.
Considerations For Business Owners
To figure out how much an independent agent—a licensed insurance producer with their own office who writes their own policies and takes care of their own customers—stands to earn, consider the factors below:
The types of policies you sell will influence your pay.
The commission rates above aren't the only number to look at when evaluating which policies to offer your customers. You should also consider which policies require larger premiums and cultivate loyalty among your customers.
Business insurance policies, for example, offer larger premiums and can net you a larger profit. The 10% commission off a $2,000 policy premium ($200) still beats the 30% commission on a $500 policy ($150). And Medicare insurance, while generally commanding lower commissions, tends to attract loyal customers from an older, wealthier demographic.
Growth-related inefficiencies could limit profitability.
As your business grows, it will likely decline in efficiency. More customers and policies mean more time spent on clerical tasks and less time selling (and making pay-generating moves). You need to grapple with this phenomenon as you pursue more customers and attempt to write more policies. If you try to do it all yourself, your pay will likely cap at the point where your time runs out.
Additional team members cost money.
The point above leads us to this one. If you assign clerical tasks to additional team members in order to free up your time, you still need to consider what to reasonably pay them in order to remain a competitive employer. The pay you should offer will vary according to your location, the job market, and your tolerance for high employee turnover. After all, hiring and training a new team member costs money, too.
Additional licensed producers cost money.
If you get to a point of growth where you want to duplicate yourself in order to make more sales, you might consider hiring another licensed producer to make sales and write policies along with you. To pay another agent, in most cases you'll want to offer them both a base pay and a commission.
You can balance these elements however you like—lower base pay with higher commission or vice versa—but you must consider the effect on your future employee: A higher base pay may attract a more loyal employee, while a higher commission rate may incentivize them to produce more sales.
When you offer another agent commission, you're essentially splitting your own commission with them in order to motivate more business. For example: If your agent sells a brand-new life insurance policy off which you'd normally get 30% for the first year, you may choose to take only 15% of the premium and compensate them with the other 15%.
Considerations For Employee Agents
As an agent working for another agent, or as an aspiring insurance agent, you may want to consider how the following circumstances will affect your pay, both now and in the future.
Your geographical location factors into your pay.
Agents working in metro areas, or close to them, make more than agents working in rural areas. The job market in metro areas is more competitive, of course, but this affects your pay and your potential for pay should you ever open your own office in the future.
Choose a balance between your base pay and commission that suits your strengths.
As mentioned above, different insurance offices offer base pay and commission combinations that vary widely. You may want to choose a company offering high base pay but lower commission to guarantee your income while you establish a client network. Or, if you're comfortable with your client base, you may know that your greatest potential lies in a position with higher commission.
You may also choose a company with lower commission offerings, knowing that they provide their agents with marketing, support, and training that will help you secure more clients in the long run. If you work with efficiency, you may be able to make more under 8% commission than an agent offered 15% commission.
Your approach to lead nurturing will influence your potential pay.
Lastly, you can nurture leads in whatever way is best for you and your income. If you choose to expand your network over time via word of mouth and establish yourself in a community, you may make more over time with loyalty and referrals. Or you could choose to purchase leads and generate quicker cash, jumpstarting your career in a specific type of policy.
Make a plan for your pay.
However you choose to approach insurance sales—go it alone or hire a team—your pay is important.
In situations where it's imperative for you to gain leads and make sales quickly, services like EverQuote's lead generation offer you a firm foundation on which to build a business. And even if you're an experienced agent, you may need additional tips or resources to generate more business growth—and there, too, EverQuote has you covered through resources like brochures and webinars.
Contact us today to learn more about how we can help you drive profit and grow faster than before.